New Appointment to Zoetis UK Poultry Team
UK - Today Zoetis announced the strengthening of its poultry team in the UK and Ireland with the appointment of Kaska Talpa as Poultry Field Services Manager.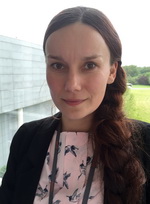 Ms Talpa has more than 10 years' experience in the UK poultry industry. After two years with Deans Foods as assistant farm manager on an organic egg layer unit in Northamptonshire, she joined Linden Barn in 2008 where she was responsible for managing 13,000 commercial layers and 6000 replacement pullets for this independent organic, free range producer.
Then in January 2014 she was taken on by Minster Veterinary Practice in York initially as poultry field support officer. Her role was then expanded to include coordinating and delivering training courses provided by the practice in bird welfare, hygiene and biosecurity, and vaccination techniques. She also developed and ran the Yorkshire Poultry Meat Producers' discussion group.
She is passionate about CPD and has obtained a science degree at the University of Northampton and is currently studying for an MSc in applied poultry science through distance learning with Scotland's Rural College.
At Zoetis her role will include carrying out customer training programmes as well as developing long-term partnerships with customers, undertaking on-farm vaccination audits, assisting with gut health lesion scoring and taking samples from the field for diagnostic purposes.
"Kaska's practical experience in the poultry sector will be a great asset to our poultry team and our customers," said James Porritt, Zoetis Poultry Manager for the UK and Ireland. "We have one of the widest ranges of poultry health products and Kaska will help customers make the best use of them to safeguard the health of their flocks."