Aviagen Hosted Prominent Latin American Poultry Companies at Business Conference in Las Vegas
US - Global poultry breeder Aviagen® welcomed 130 attendees from 13 countries throughout Latin America to Las Vegas, United States, for the third Aviagen Business Conference-Latin America (ABC-LA), 23-27 August.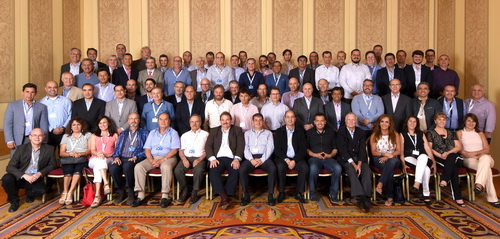 Official picture from executives at "Aviagen Business Conference – Latin America" (ABC-LA),
Las Vegas, United States, from August 23-27.
During the three-day conference, executives and consultants from Aviagen, agribusiness, academia and professional associations shared their business insights and expertise with Aviagen Latin American customers. These industry experts explored commercial trends and market innovations affecting the economics of the global broiler industry. They also discussed best practices leading to thriving poultry businesses, as well as global developments that will present business opportunities for Latin America.
Another important outcome of ABC-LA was the valuable customer feedback that Aviagen will use to help drive its highly regarded product development, which includes the industry's largest product portfolio. Additionally, the event offered collaborative opportunities that encouraged an interchange of information, ideas and industry insights among participants.
"Aviagen is pleased with the growing popularity of ABC-LA among our valued Latin American customers and we feel the conference helps us to underscore our commitment to their commercial success," according to Ivan Lauandos, president of Aviagen Latin America.
"We plan to continue the conference for years to come, as it has proven to be an effective setting to communicate ongoing developments, market trends and business opportunities in the international poultry community," expressed Ullrich Koehler, business manager, Aviagen Latin America.
"This year's ABC-LA marked our highest attendance yet. We've had positive feedback from customers regarding the quality of information and usefulness to their business pursuits. The conference offers a great opportunity for us to listen to our customers and use their input to shape our own future business strategies," according to Abilio Alessandri, business manager for Aviagen Brazil.
Aviagen customers offered similar positive feedback concerning this year's ABC-LA.
"All aspects of the event - from the accommodations and overall organisation to the quality and depth of content – were excellent," offered Gerardo Vesga, general manager of Avicol, Colombia.
"We especially appreciated the selection of topics, which were relevant to current issues we are facing in our daily business operations," added Eddy Wever, CEO of DIP-CMI, Guatemala.
"Pluma Agroavicola had the privilege of attending an event that, with no doubt, is considered one of the best in the poultry world. We were enlightened by the content, which supplied us with information that will help advance our business, and were impressed by the organization and attention to detail of the entire event package," exclaimed Lauri Paludo, CEO of Pluma Agroavicola, Brazil. "We look forward to experiencing what ABC-LA 2018 has in store for us."