Groupe Grimaud and Agocampus Ouest Signed a Partnership Chair
FRANCE - Driven by their commitment to regional development, their scientific proximity in the field of genomics and the poultry industry, and their respective ambitions in the area of research and education, GROUPE GRIMAUD and AGROCAMPUS OUEST are today formalising their desire to advance together by agreeing a partnership chair in "Genomics and Selection in the Poultry Sector".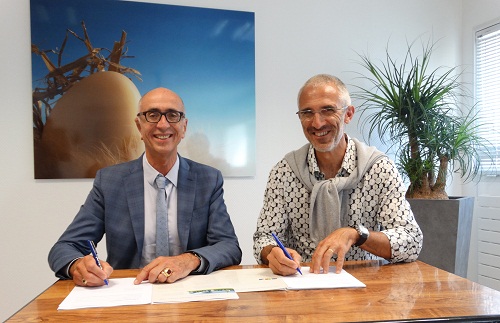 The aim is to foster new knowledge and skills within the sector, offering enhanced support with regard to future technological, economic and societal changes.
In this way, the chair will strengthen the long-­‐standing partnership links established for major scientific projects:
On the implementation of genomic selection (UtOpIGe project): The research carried out within this framework has demonstrated the advantages of genomic selection in pyramidal breeding schemes such as laying hens. It has enabled the acquisition of expertise in this area at AGROCAMPUS OUEST, in a field which opens up numerous opportunities for students. In parallel, GROUPE GRIMAUD has been able to routinely implement this genomic selection in its laying hen lines.
On the adaptability of animals to changing conditions (ChickStress project): This work seeks to understand animals' mechanisms for adaptation to abiotic stress (thermal shock and sub-­‐optimal nutrition), which may lead in the medium term to the establishment of new selection objectives consistent with animal sturdiness. This work is in line with the major societal and environmental challenges to which AGROCAMPUS OUEST and GROUPE GRIMAUD are so firmly committed.
The joint work of the 35 scientists from GROUPE GRIMAUD's research teams and the 135 lecturer-­‐researchers from AGROCAMPUS OUEST will produce the knowledge and expertise required to train outstanding engineers at AGROCAMPUS OUEST while also consolidating GROUPE GRIMAUD's position as a global leader in poultry genetics.