Anniversary Presentation to Gallus in Hungary
HUNGARY - The 25th anniversary of Hungarian poultry production company Gallus Kft was celebrated with a presentation from Cobb Germany in front of government dignitaries from Hungary and adjoining countries as well as suppliers and colleagues from the poultry industry.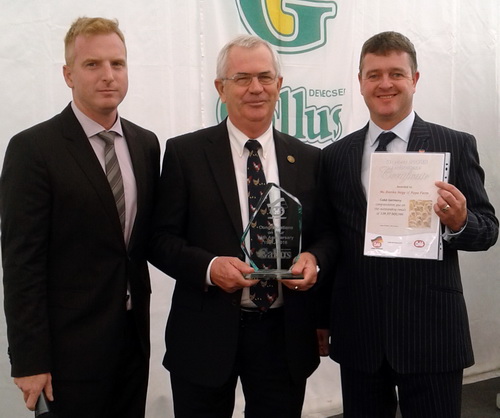 From left to right: Roland Szita [production director], Istvan Szabo [owner Gallus Kft] with James Truscott
Istvan Szabo, senior owner of Gallus, spoke about the company's history and achievements over the last 25 years while chief executive officer Akos Szabo spoke about the current situation and introduced a video of its activities.
Presenting Mr Szabo with a commemorative glass plaque in the centenary year of Cobb, James Truscott, director of Cobb Germany, spoke about the important contribution of all the employees to the success of the business and also presented a certificate for excellent breeder results to the company.
"The Cobb bird has developed in a way that nobody would have expected since Gallus started 25 years ago," said Mr Truscott. "Today Gallus in Hungary is benefiting from the continuing genetic gains of the Cobb500 broiler breeder not just in the hatchery and processing plant but also very much on the broiler farms.
"With the Cobb500 research and production now in Europe, customers here are seeing substantial benefits in feed conversion, growth rates and livability so that broiler farmers can be even more successful with the breed."