Hatchery Expansion Delivers Major Boost for Moyer's Chicks
US - Pas Reform has completed a major hatchery upgrade and expansion project for its oldest customer in the USA, Pennsylvania-based Moyer's Chicks.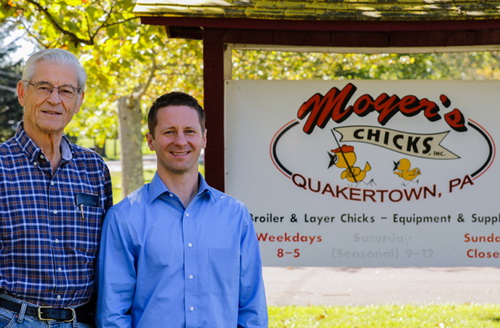 The company's investment will significantly increase its production capacity to meet rapidly growing demand from customers in both North Eastern USA and Canada.
Family-run Moyer's Chicks, a Pas Reform customer since 1989, has installed nine new SmartSetPro™-6 setters, to expand weekly hatching capacity by 330,000 day-old broilers.
In addition, as a central component of the upgrade, the company has also installed Pas Reform's SmartCenterPro™ hatchery information system, to provide end-to-end real-time monitoring, control and reporting capability, which will enhance workflow efficiencies, quality control and traceability.
"Our new SmartCenterPro™ software gives us the opportunity to get frequent updates of the operating software," says Ivan Moyer, owner of Moyer's Chicks. "It also means that Pas Reform/NatureForm technical personnel can carry out these updates and trouble shoot in our hatchery from a remote location.
"The first results, in terms of hatchability and chick quality, have really added to the capabilities of this hatchery," says Ivan. "Using single-stage incubation has improved the quality of our day-old-chicks, greatly contributing to the results we are having from the hatchery and to the very positive feedback we have received from our customers here."
Pas Reform's regional sales manager Robert Bowen comments: "With a relationship going back more than 25 years, Moyer's Chicks is Pas Reform's oldest customer in the USA and we are delighted to see the company being so successful and expanding their markets."
Moyer's Chicks has come a very long way since being founded by Ernest K Moyer in a cornfield 70 years ago. By 2001, the company was hatching 16 million chicks per year. Always a progressive company, Moyer's Chicks was an early member of the National Poultry Improvement Plan and is today a member of the American Pastured Poultry Association.
Recent years have, says Ivan Moyers, seen an increase in customers from the sustainable agriculture movement, who are providing their consumers with poultry products from free-ranging, naturally grown flocks.
"We have always been very positive about Pas Reform equipment," he says, "and about their readiness to enter the North American market. Now that we see the collaboration with NatureForm taking shape, we also value the opportunities that this partnership opens up in terms of technological collaboration."