Interactive Elements at the Heart of 11th Annual Ross DCFT Meeting
CYPRUS - Ross® Distributor Customer Focus Teams (DCFT) from across Turkey, the Middle East and Africa (TMEA) gathered for their 11th annual meeting in Cyprus between 26 and 29 Sept.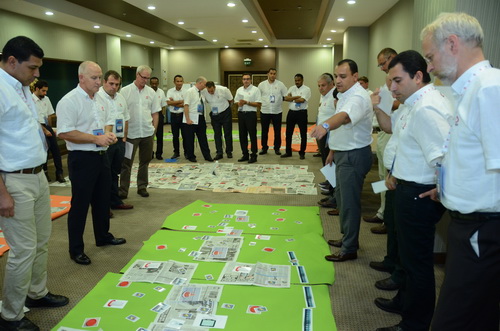 The event not only celebrated the 60th birthday of the Ross brand but also saw key Ross Parent Stock (PS) customers from the region attend for the first time.
Delegates from 12 countries enjoyed the strong interactive element of the DCFT meeting, with workshops focusing on brooding, a main topic identified by distributors and their customers. Aviagen® Veterinarian Dr. Pavel Shkarlat discussed gut health and the importance of gut development; Senior Geneticist Victor Olori gave an update on genetic improvement of Ross broilers and breeders and Nutritionist Adam Sacranie shared insights on optimal breeder nutrition.
Robert Haggerty, senior technical manager, Ross TMEA, said, "Our DCFT meeting is an ideal forum for our distributors and PS customers to come together to share knowledge and experiences. The meeting's interactive sessions were all well received by delegates and we were encouraged to hear that there is appetite for this level of engagement in the future. Hearing opinions and ideas from the perspective of our distributors and customers on all aspects of Ross products and services is invaluable to us."
Dr. Borhan, Technical Service Manager at Purebreed Saudi Arabia, added, "My colleagues and I learned a great deal by attending the DCFT meeting. It allowed us to build relationships with other participants and created an atmosphere where management and production knowledge could be exchanged easily. I will pass on what I learned to our own customers in turn. I also wish to congratulate Ross again on celebrating 60 years of success, which is a fantastic achievement."