PowerBox: First Off-Grid Power Supply for Livestock Farmers
GERMANY - At this year's EuroTier in Hanover, Germany, BD PowerSystems will present a trendsetting innovation for the energy supply of livestock buildings: With the PowerBox, farmers gain complete self-sufficiency from public grids. The main energy source for PowerBox are solar panels.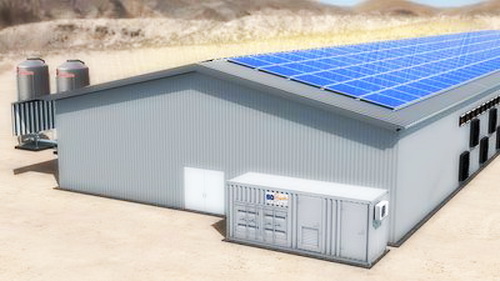 Three additional energy sources and a clever energy management system (EMS) provide a double safety net for secure operation: If one energy source fails, one of the others takes over.
For the first time ever, the innovation ensures a reliable energy supply for farmers in regions with unstable mains or insufficient energy supply, especially in Africa, Asia and South America. Essential smooth-running of the barn is guaranteed by the four energy sources, thus increasing security for the animals' lives and significantly minimising economic risk for the farmers. Using the PowerBox can also pay off for livestock owners in Europe, for example.
This is because annual energy costs can be reduced by up to 40 percent and CO2 emissions by up to 70 percent. With these figures, the PowerBox is a trendsetting method for power generation, also with regard to the environment. The system amortizes within few years.
The working principle: In addition to the solar panels on the roof, a compact container containing a modern lithium-ion battery and two diesel gensets is installed. The specially developed energy management system is integrated into the control system of the house. As EMS and control unit communicate at all times, processes inside the barn and energy supply work together perfectly.
During the day, the barn is usually supplied with solar power. Any surplus is stored in the battery. Whenever power is insufficient, the battery system covers the difference. The diesel gensets are generally switched off during the day. However, just a single genset would be able to guarantee the most important functions in the barn, ventilation and cooling. For operation during the night, one genset suffices.
BD PowerSystems is part of the Big Dutchman group. The company can thus draw on a proven network of sales and service partners of the equipment supplier on all five continents and in more than 100 countries.