Bird Flu Continues to Spread through Europe
EUROPE - More outbreaks of H5N8 highly pathogenic avian influenza have been found all over Europe in the past few days.
Hungary has confirmed outbreaks on nine more farms in the south of the country, mainly affecting geese and ducks. Over 107,000 birds were destroyed as a result of the outbreaks in the south of the country.
Meanwhile in Germany, five backyard holding have been affected at the country's border with the Baltic Sea in the north eastern Mecklenburg-Vorpommern region. Seventy-nine birds died and 276 were destroyed in these outbreaks, and officials reassured consumers that no poultry or poultry products were dispatched from these farms.
In Lower Saxony an outbreak of H5N8 has been reported on a turkey farm by the local authorities, and around 16,000 birds will have to be depopulated there, but this has not yet been officially reported to the World Organisation for Animal Health (OIE). Media reports suggest a farm in Denmark has also been affected.
Switzerland's latest official report to the OIE shows 51 wild birds died in 39 separate incidents across the country, making the outbreak map (below) look rather crowded. Species affected were mainly tufted ducks and herring gulls, but also included other waterfowl such as grebes and birds of prey including a falcon and a buzzard.
Other outbreaks of avian flu were reported in wild birds in the Netherlands, Sweden and Russia, where the virus is thought to have originated.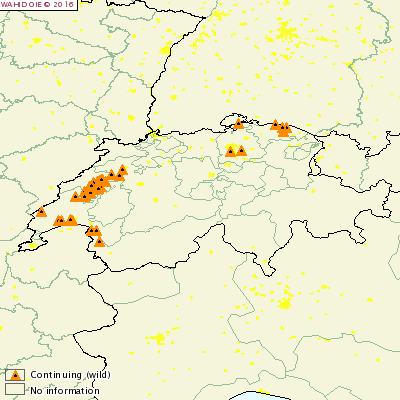 Map of avian flu incidents in wild birds in Switzerland
Further Reading
You can visit the avian flu page by clicking here.