Canadian Egg Producers and Friesen Group Visiting NOVOGEN
FRANCE - Friesen Group, who officialised the distribution of NOVOGEN products early this year, came with a group of Canadian egg producers to visit the NOVOGEN facilities in France.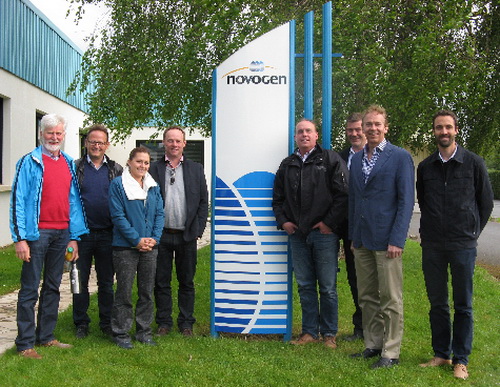 Friesen Group through its two companies, Featherland Farms and Pacific Pride Chicks, serves respectively the Western United States, as well as the Canadian Provinces of British Columbia, Alberta, Manitoba and Saskatchewan.
The two first days of the visits were dedicated to some technical discussions, visits of NOVOGEN R&D facilities and commercial layer farms. In this latest, the French and Canadian egg producers were excited to exchange information on their respective bird management and market situation. Also the technical results of the commercial farm have been discussed in depth. The Canadian producers were very impressed by the production characteristics and behaviour of the NOVOGEN breeds.
The trip ended up with the visit of the famous walled city of Saint-Malo. Marvin Friesen, CEO of Friesen Group concluded: "This trip was a great opportunity to exchange with the NOVOGEN team and to strengthen our collaboration in an excellent atmosphere. The NOVOgen BROWN and NOVOgen WHITE breeds have already shown their genetic potential of production in Canada. We are very optimistic on the growth of our activities in the North American market."