European Avian Flu Spread Continues as Outbreak Hits Austrian Turkeys
EUROPE - An outbreak of highly pathogenic avian influenza has been reported on a farm in Austria, following detections of the disease in wild birds across Europe.
The H5N8 strain of the virus was found in a free-range turkey growing operation near Lake Constance in Vorarlberg. The government news release did not say how many birds were affected.
Ten dead migratory waterfowl with the disease were discovered there earlier last week, and three dead birds were also reported on the Swiss side of the lake at Kreuzlingen, according to the World Organisation for Animal Health (OIE) reports).
The company was immediately quarantined and the birds are being depopulated and disposed of, followed by disinfection and cleaning. A protected zone with a radius of at least 3 km and a monitoring zone with a radius of at least 10 km have been created around the affected operation. Within the protection zone, all poultry holdings are being inspected by an official veterinarian.
Poultry farms in the protected zone have been told to keep all birds indoors and to improve biosecurity measures. The disease was also detected on a Hungarian turkey farm last week.
Germany also has a border on Lake Constance, and dead wild birds have been detected there too. An avian flu 'crisis committee' met there for the first time on 12 November to discuss a coordinated response to the spread of the disease. The meeting included officials from the Ministry of Agriculture, representatives of Germany's different regions, scientists and economic experts.
The participants agreed that birds in high-risk areas should be kept indoors. These include wetlands, resting areas of migratory and wild birds, as well as areas with a high regional density of poultry farms. Poultry across the Netherlands have already been ordered indoors to reduce the risk of spread.
Germany's crisis committee also agreed that biosecurity and hygiene will be stepped up in poultry farms across the country.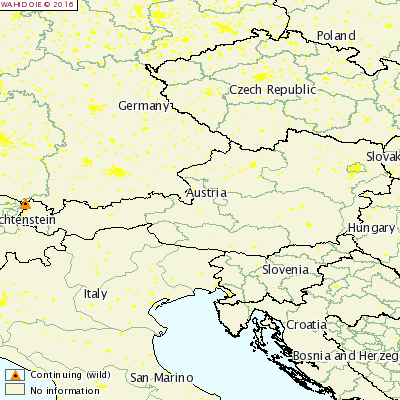 Location of the outbreak in Austria on the shores of Lake Constance
Further Reading
You can visit the avian flu page by clicking here.