Global Food Vision at Cobb Conference in Zimbabwe
ZIMBABWE - The role of chicken in helping to make good food affordable to the many different types of consumers around the world was expounded by Donnie Smith, chief executive officer of Tyson Foods, at a conference in Zimbabwe for Cobb distributors across Europe, Africa and the Middle East.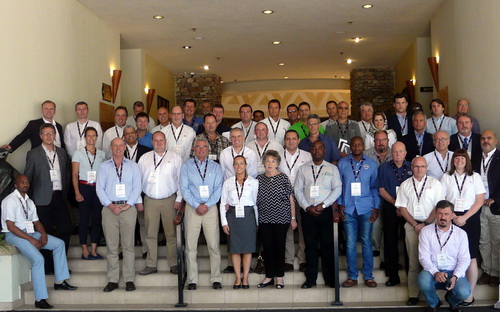 Seventy delegates from 13 Cobb distributors serving over 70 countries in the region took part in the biennial event, which took place over four days at the Elephant Hills resort at Victoria Falls and provided the opportunity for technical presentations on aspects of grandparent and parent stock production.
Donnie Smith referred to the many people across the world going to bed hungry every night. "That's one in four living right here in Africa," he said. "It's difficult to imagine that in many countries people are spending 40 to 45 percent of their annual income on food, and in a world where the population is growing at an unimaginable rate, we have an amazing challenge in front of us."
He said the industry had the knowledge and ability to change that: "The fact is — making great food isn't cheap but it must be affordable to every consumer because every consumer is different. For some, food is about survival. For others it's about choice and experience.
"So we don't make foods for just one kind of consumer. We make food for everyone — no matter their religion, culture or economic background."
He said consumers wanted chicken: "It's more affordable and more culturally accepted around the globe. Chicken is now the assumed 'healthier' protein option and, for the first time in history, globally, chicken consumption is projected to overtake pork consumption as early as 2020."
The challenges facing the industry are to reduce tariffs and non-tariff barriers to world trade, to make sure that consumers trust their products and to progress sustainability through setting water reduction and other environmental goals.
Mark Sams, Cobb general manager of the Europe, Middle East and Africa region, said the event provided an ideal opportunity to update everyone on current product performance while outlining plans for the future.
"The distributor network is a vital part of the success Cobb has experienced over the last century and will continue to be very important for our future," he said. "I believe that local people understanding the dynamics of each market and being able to relate closely to specific market, geographical or cultural situations helps provide the quality of products and service that the Cobb brand stands for.
"Cobb Europe has invested significantly over the last five years, developing a European breeding programme and increasing production capacity due to significant sales growth. Further investment is planned in the coming years to ensure there is product available to meet the growing demand for Cobb across EMEA."
The technical sessions discussed in detail the management of grandparent lines based on the lessons learnt from the top 25 percent of performances across the region. Awards for the best company performance went to Cobb Europe, with Quantum Foods of South Africa runner-up. Other awards were gained by Hybrid Poultry Farm of Zambia, Cobb Española of Spain and Cobb Europe, with recognition of the best performance progress going to Cobb Sweden.