Leading Role for Cobb in Russian Expansion – and Cobb Champion Awards Go to CIS Countries
CYPRUS - The Cobb breed will play a leading role in increasing poultry meat production in Russia next year, Irina Likhacheva, Cobb sales director for Russia, told the company's regional technical seminar in Cyprus for the CIS countries.
She said that poultry meat accounted for 43 percent of all meat production in Russia where more than 94 percent of the population eat poultry regularly. Chicken meat provides the cheapest daily requirement for animal protein – 53 rubles for 390 grams of chicken compared with 143 grams for pork.
Next year poultry production is estimated to increase further to 4.810 million tonnes with 4.760 for domestic consumption. She added that with Cobb the largest supplier to 11 of the 20 leading Russian poultry meat producers, the breed would play a major role in the industry's future expansion.
Over 100 poultry specialists from Russia, Uzbekistan, Armenia and Georgia were at the seminar which provided an update on breeder and broiler management from Cobb specialists. The group represented more than half of poultry production in the CIS countries.
Patrick van Trijp, regional account manager of Cobb, stated; "Celebrating the first 100 years of Cobb on this island with a lot of history, together with friends from the poultry industry, shows the fantastic relationship we have developed with our customers. Looking at their excellent results, combined with the professional technical support from Cobb and our customers, I'm sure Cobb has a bright future in the CIS countries."
- Additionally two Cobb Champion awards were presented at the event.
One award went to Zarshed Muhamadiev, owner of F H Navobod Naslli, in Uzbekistan, who received the prize with chief technologist Ravshan Buldakov for achieving 'exceptional broiler performance'. He stated: "Since working with Cobb our technical and financial results are getting better year by year with the high quality chicks and technical service provided by Cobb. We are proud to be part of the Cobb family and this prize motivates us to keep striving to be the best."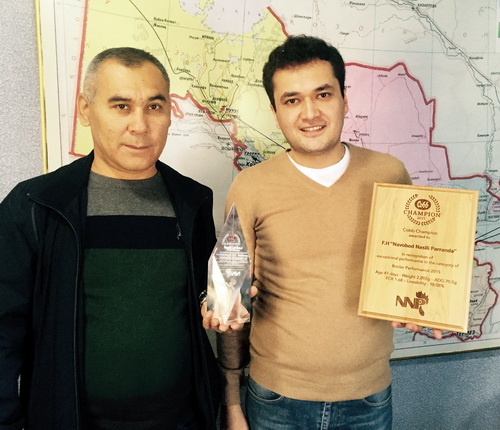 The second Cobb Champion award went to Alexandr Sovich, deputy director of Vasilievskaya farm in the Cherkizovo group, who said: "Being part of the Cobb family we improved the production in our operation in both breeders and broilers and are among the top in the industry. I am sure with the help of Cobb we will stay there."
These companies join the other Cobb Champions whose results are among the top one percent in Europe, the Middle East and Africa in the categories of breeder, broiler and hatchability performance.