Zeus is the First LED Lamp to Allow Replacement of Individual Parts
GERMANY - When an LED lamp fails, it cannot be repaired and must be replaced. This statement is no longer true now: Big Dutchman presents the world's first modular and highly robust panel light for animal husbandry that can be repaired at EuroTier 2016.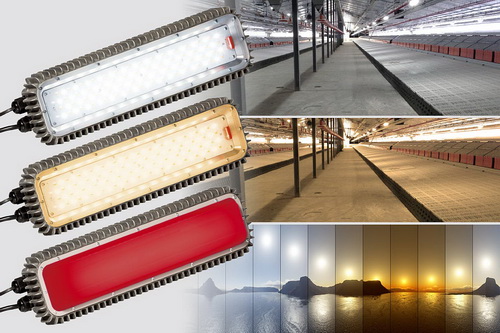 Because of the modular design of Zeus, replacing individual parts of the lamp is incredibly easy and, moreover, very cost-efficient. This will remain true even if the legislative authority demands adjustments to the house lighting.
In addition to its sustainability, Zeus has many more trendsetting new features. For example, poultry farmers can select a variant where the lenses are built into the glass, while the norm are clear glass and milk glass covers. In contrast to standard lamps, barns can therefore be lit much more evenly and efficiently. The lens optics refract the light and extend the emission spectrum.
It is a well-known fact that light has positive effects on the health and well-being of humans. This knowledge has been utilised successfully in public facilities such as hospitals. Zeus applies the Human Centric Lighting (HCL) method to agriculture for the first time. The lamp is equipped with two different channels (warm white and cool white) that can be mixed as required. Livestock managers can thus adjust to the different requirements of their livestock. Simulating the progression of daylight, for example, has a positive effect on the birds' well-being and thus also on their performance.  
Another new feature of the lamp is the integrated microcomputer that controls and monitors all processes. This plays an important role with regard to temperature as LED lamps are very sensitive to heat. When the ambient temperature rises above the critical level of 50°C, the controller immediately lowers it. Zeus shows no flickering and can be dimmed from 0 to 100 %.