Europe Joins in Celebrating the 100 Years of Cobb
GERMANY - The Eurotier Show at Hannover in Germany provided an ideal opportunity for Cobb Europe distributors, customers and friends to share in celebrating the 100 years of Cobb-Vantress, Inc. as the anniversary year comes to a close.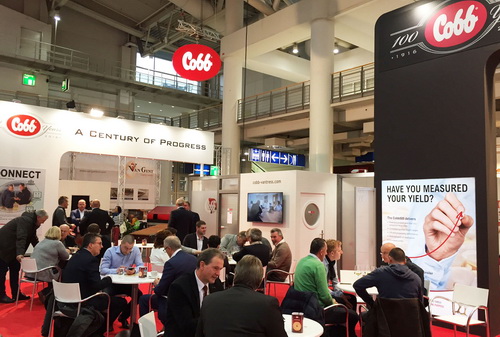 The show took place within days of the November 20 date when in 1916 Robert C. Cobb bought Old Pickard Farm at Concord, Massachusetts, which became the home of the company for more than 70 years until its move to Siloam Springs, Arkansas, in the 1980s. The Cobb breed came to Europe more than 50 years ago and the Cobb500 broiler breeder was launched in the UK in the 1970s before its introduction to the United States ten years later.
The centenary celebrations, which began last autumn with the Cobb worldwide distributor conference in Boston, Massachusetts, have been taking place around the world during 2016 and, at Eurotier, Cobb retiring president Jerry Moye was making his final attendance at a European exhibition after ten years as president. He was accompanied by the new president of Cobb Joel Sappenfield.
"I am really appreciative of all the support for Cobb and for the transition to the new leadership of the company," he said. "I'm sure we can look forward to many great opportunities for Cobb in this region of the world as we enter the next 100 years."
As well as a special reception on the exhibit, there was also a restaurant dinner where warm appreciation for the support given by Jerry Moye to Cobb Germany – and the European distribution network in general — was expressed by its general manager Leo Graf von Drechsel.
He recalled that they had first met 18 years ago at a Cobb worldwide distributor conference in San Antonio, Texas, and spoke of the very successful and enjoyable time they had developing international business together. He expressed his appreciation to Jerry Moye on behalf of all Cobb customers, distributors, friends and partners in Europe.
"We congratulate you for doing a great job, for growing the business of Cobb, for working with us and giving us business, and we do try to give it back some times," he said.
As a token of appreciation he said Jerry Moye merited 'one of the highest German rewards – to be guest of honour at the German Oktoberfest for life'.
Jerry Moye added: "I appreciate all the friendship here and the support for Cobb. We have a great business over here, and you will have a great new leader in Joel Sappenfield. You'll really enjoy working with him."