More Bird Flu Outbreaks Found on Hungarian Farms
EUROPE - Thirty-nine more outbreaks of highly pathogenic avian influenza have been found on Hungarian farms, along with several others in wild birds in Europe.
Hungary has had a large number of outbreaks of the H5N8 strain of the disease, which has been spreading around Europe and beyond for the past few weeks.
The Hungarian outbreaks affected mainly geese and ducks on farms, although one backyard holding was affected. In total on all the premises, over 222,000 susceptible birds were kept, which will likely all be destroyed to prevent further spread of disease.
Poland has also reported one new outbreak of H5N8 avian flu. The disease killed 275 birds on a farm in the Lubuskie region, and another 37,123 birds were destroyed.
More outbreaks have been reported in wild birds in the last few days in Switzerland and Germany. Birds affected included mute swans and tufted ducks.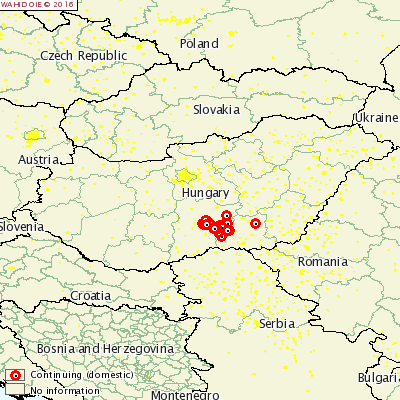 Further Reading
You can visit the avian flu page by clicking here.