Thousands of Birds Culled in France as Bird Flu Virus Spreads to More Countries
GLOBAL - Birds on six more farms have been destroyed in France after the birds were identified as being connected with the initial outbreak farm.
The first outbreak of the H5N8 strain of highly pathogenic avian influenza in France was found last week, just one day before France was due to declare itself free from the disease after the devastating outbreaks of last winter.
Over 13,000 ducks were destroyed on the six farms, which were also in the south western fois gras-producing region that was heavily hit by the disease last year.
Two duck fattening farms were also confirmed as infected in Flevoland province in the Netherlands, resulting in the culling of over 23,000 birds.
In Poland, a goose farm in Lubuskie province has been hit by bird flu, the country's first outbreak of this type of flu on farms. Over 1000 birds were lost to the disease and over 600 more were destroyed to prevent it spreading.
In Iran, two more commercial layer farms have been infected, resulting in the deaths of 1148 birds and another 248,834 being destroyed. The new outbreaks were detected through surveillance measures, and an investigation is ongoing into the source of the outbreak to prevent it's spread. Over 500,000 birds at farms located in a three-kilometre radius around the affected farms have been slaughtered as a preemptive control measure.
Tunisia has reported its first outbreaks in wild birds in Ichkeul Natural Park (wetland). Tunisia is located in the main migratory corridor for wild birds going to Africa from Europe during winter migration. Access to the park was suspended and surveillance measures put in place.
More wild birds have been found dead from the disease in the Netherlands, Romania, Austria and Germany.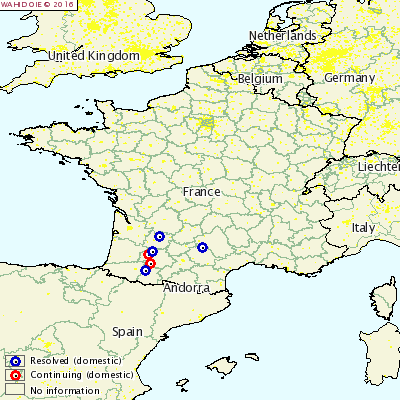 Locations of depopulated farms in south west France
Further Reading
You can visit the avian flu page by clicking here.