Bird Flu Latest - H5N8 Outbreaks Around Europe and Beyond
GLOBAL - There have been many more new outbreaks of avian influenza in the past few weeks since 21 December, according to reports newly visible on the World Organisation for Animal Health (OIE) website.
In the Netherlands, there have been 14 outbreaks of the highly pathogenic H5N8 virus during that time. Eleven of these outbreaks were in wild birds, affecting swans, ducks, a goose and an eagle. The other three outbreaks affected two breeder flocks and one layer flock in the Gelderland and Zuid-Holland regions, resulting in total deaths of over 81,000 birds.
Germany had seven outbreaks, affecting mainly turkeys in Niedersachsen and Nordrhein-Westfalen. These outbreaks resulted in the deaths of over 13,000 birds. France reported 31 new highly pathogenic H5N8 outbreaks, as well as several new low pathogenic outbreaks. The country subsequently announced pre-emptive culling in some regions to curb the spread of the diseases.
Hungary has found a total of 53 new outbreaks, concentrated in the southern Bacs-Kiskun region and affecting over 887,000 birds. This included farmed birds and backyard birds, mainly ducks but also some geese and layers.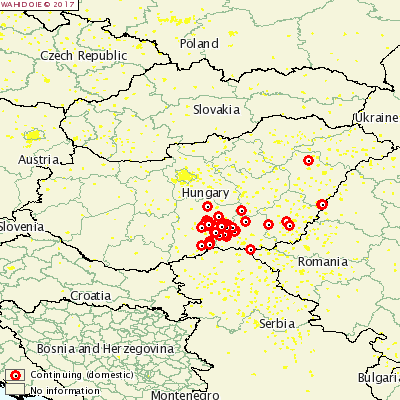 Poland's poultry deaths in recent weeks amount to over 78,000 on farms and backyard holdings, along with four wild birds. Twelve separate outbreaks were reported in all.
In Scandinavia, one backyard outbreak and three outbreaks in wild birds were found in Sweden, and one white-tailed eagle was found with the disease in Finland. Denmark reported nine outbreaks in gulls and birds of prey.
Croatia reported one new outbreak in backyard birds, while the Czech Republic reported two new outbreaks in small backyard flocks. Bulgaria found nine outbreaks, including one farm, several backyard flocks and some wild birds. In Slovakia, a backyard flock of 65 birds was affected. Montenegro and Greece reported one outbreak each in wild birds.
In Romania, two greylag geese and three whooper swans have died from the H5N8 virus. In addition, a backyard outbreak killed 22 birds and another 169 birds were destroyed. The backyard flock included hens, turkeys and ducks.
Outside Europe, Iran has also reported five more outbreaks, with four in backyard poultry and one on a commercial layer farm. Israel found 17 new outbreaks, some on farms affecting turkeys, breeding chickens or layers.
Taiwan discovered four outbreaks of H5N8 avian flu in chickens in an abattoir. Traceback operations are under way.
Further Reading
You can visit the avian flu page by clicking here.