Intrinsically Heat Stable Enzymes Can Take the Heat Without a Coat – Naturally
GLOBAL - The upward trend in commercial animal feed conditioning temperatures aims at improving pellet quality, as well as enhancing feed hygiene, and continually tests the stability limits of various feed additives, writes Dr. Ajay Bhoyar, senior manager, Global Poultry Marketing – Novus International, Inc.
Enzymes are proteins and they tend to lose their catalytic activity or become denatured at high temperatures.
The conditioning step of manufacturing pelleted feed presents the most challenging environment for the enzyme to survive without denaturing, and no two feed mills have exactly the same conditions. When considering adding enzymes to feed, it is important to look at all options to select the best, high-performing, heat stable enzymes.
The heat stability of enzymes is the key factor in selecting a particular product for pelleted/crumbled feed producers.
Coated enzymes may face the challenge of compromising between increased heat stability and reduced enzyme release.
Non-coated, intrinsically heat stable enzymes present a unique solution that removes this compromise and are the most active approach being investigated to meet the needs of the feed manufacturing industry today.
Intrinsically heat stable enzymes return value through animal performance.
Intrinsically heat stable enzymes may interact with feed particles during the conditioning/pelleting process resulting in difficulty extracting the entire enzyme using existing analytical methods.
Rather than only relying on results from the in-feed assay, it is also important to remember to look for indications of enzyme activity through animal performance factors.
Non-coated, intrinsically heat stable enzymes serve as solutions to a growing industry need for producers looking for potent action within the animal to be able to better utilize a wider variety of available feed ingredients.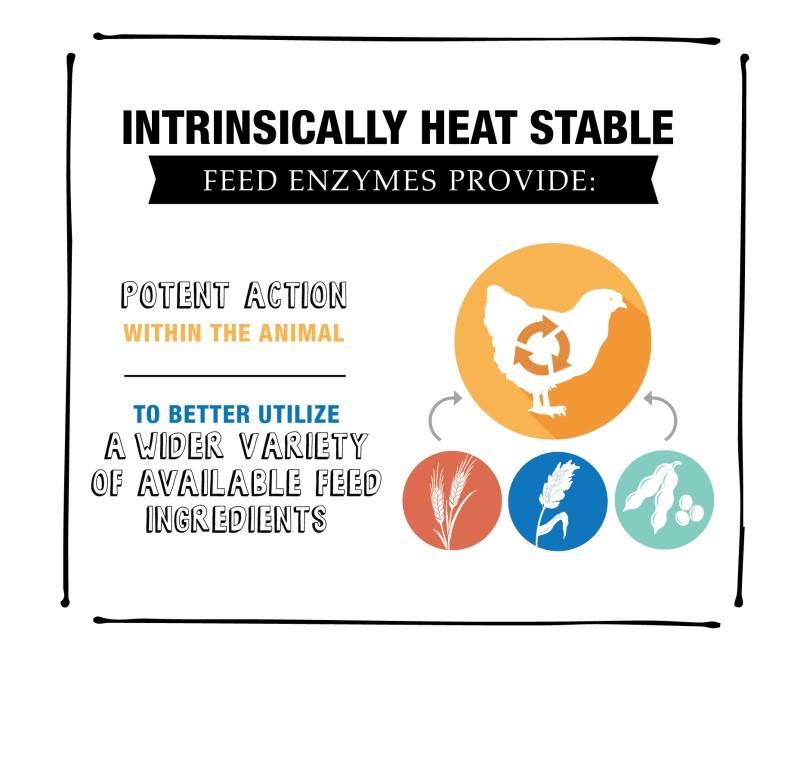 Please visit Novus International, Inc. at http://www.novusint.com/en-us/Products/cibenza to learn more about how Novus enzyme solutions apply to your production applications.