Aviagen Renews Contract with Parent Stock Distributor Arbor Acres Algeria
ALGERIA - Aviagen® and Arbor Acres Algeria® (AAA) have renewed their contract for the exclusive distribution of Arbor Acres parent stock (PS) in Algeria by AAA.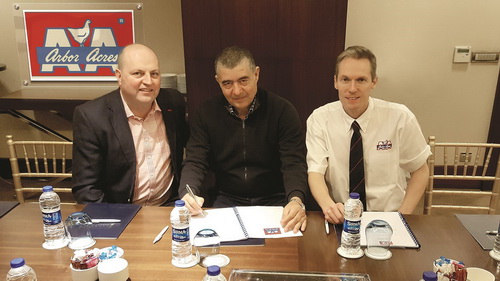 The contract was signed in Istanbul on Jan. 15 by Michael Garden, Aviagen's business manager Middle East Africa (MEA); Rachid Kherbouche, owner of the Kherbouche Group; and Florian Blevin, senior technical manager, Arbor Acres MEA.
The new contract reaffirms the continued commitment to the Arbor Acres brand in the country. Its market share in Algeria has grown to 60 percent through excellent performance at the broiler and breeder level since it was first introduced in Algeria in 2010. To support the increased market demand and ensure continuity of supply through local production, AAA has recently invested in increased hatchery capabilities and the building of new grandparent (GP) farms through its owner, the Kherbouche Group.
Mr Rachid Kherbouche said, "We were delighted to sign this new contract with Aviagen. We have great confidence that Arbor Acres is the right breed for the Algerian market and the growth of demand in recent years is testament to this and the quality of the product."
Florian Blevin added, "The investment that Arbor Acres Algeria is undertaking shows its high level of commitment to customers in Algeria. We are grateful for the dedication, professionalism and enthusiasm that Mr Rachid Kherbouche and his team have displayed for the brand up to now and we look forward to continuing to work together and support AAA in the market."