IPPE - US Poultry in "Sweet Spot" With Low Feed Prices and Rising Economic Growth
US - Low feed and fuel prices and rising economic growth should mean a good year for the US poultry industry says international poultry economist Paul Aho, but uncertainty in trade relations with Mexico and Cuba could become a problem for exports of leg quarters. Andrew Amelinckx reports.
"We're in a sweet spot where economic growth is increasing demand and grain prices are lowering our costs," Aho said on Wednesday during the Poultry Market Intelligence Forum at the International Production and Processing Expo in Atlanta, Georgia. But, he cautioned, the corn and soybean price cycles have nearly bottomed out and would eventually start rising.
The USDA's forecast of a four per cent increase in poultry meat production this year doesn't have him worried about supply out stripping demand. Aho believes this forecast is consistent with the country's economic growth. He said while there is a lot more meat expected to come into the domestic market - five per cent more pork and three per cent more beef, along with the chicken - totalling about two billion more pounds, if economic growth continues the way it's going, demand for meat should meet the rise in supply.
"I don't see a problem with a lot more meat on the market this year," he said. "If we assume that growth is going to continue, or perhaps even accelerate over the next few years, I think there's plenty of room for increased meat consumption in the US."
Mexico a "big unknown"
One area of concern is in leg quarters, where close to 70 per cent goes for export, with Mexico and Cuba being the two largest buyers. Mexico represents 25 per cent of the entire market, said Aho. Fears of a trade war between the US and Mexico have risen since President Donald Trump has threatened to rework the North American Free Trade Agreement.
"The big unknown is Mexico. They are the number one buyer of US large leg quarters. They bought more than a billion pounds last year," Aho said. "You want to treat customers like that very carefully. Cuba was second with 330 million pounds. I can't assume diplomatic relations with Mexico and Cuba are going to be great this year, but hopefully calmer heads will prevail and we will continue to have good relations with those two countries."
In regard to eggs, Aho believes there will be "somewhat higher egg consumption" in the coming year. Egg consumption went down due to avian flu in 2015 and had a strong rebound in 2016 that led to a large drop in egg prices, but Aho feels prices will begin to recover this year.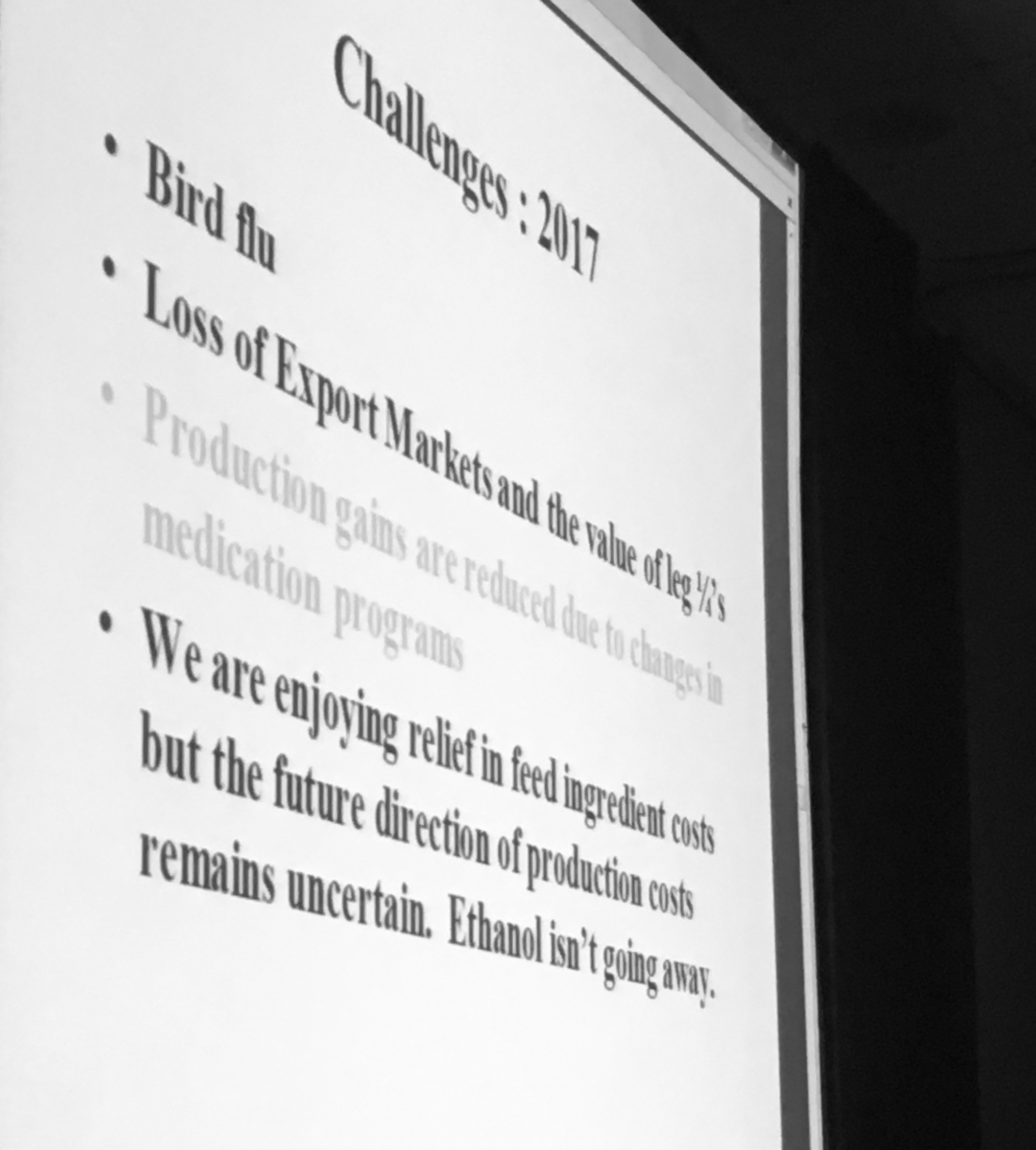 "I believe the economic growth that we're seeing and will see in the next few years supports a robust chicken and turkey expansion," said Aho. "If we remember to think globally and treat all of our trade partners gently, I think we'll all do fine."
Michael Donohue, vice president of the statistical research and analysis firm Agri Stats, who also spoke at the Forum on Wednesday, was cautiously optimistic about this year. He noted that potential stumbling blocks included the possibility of bird flu outbreaks, losses of export markets, and the volatility of the commodities market.
"Some things that still cause me concern are that any outbreak of the bird flu in the US could take gains away in a heartbeat," he said. "Any loss of export markets on leg quarters and increased feed ingredient costs - if the corn goes back to 125 bushels like we saw in 2012 - it could turn upside down really fast."