World Class Performance Wins Fengxiang Award in China
CHINA - Top parent award for a Cobb flock in China has been won by the Shandong Fengxiang Company, one of the country's largest poultry integrators with a processing capacity of 100 million chickens per year. The winning flock achieved 150.6 chicks/breeder to 65 weeks of age.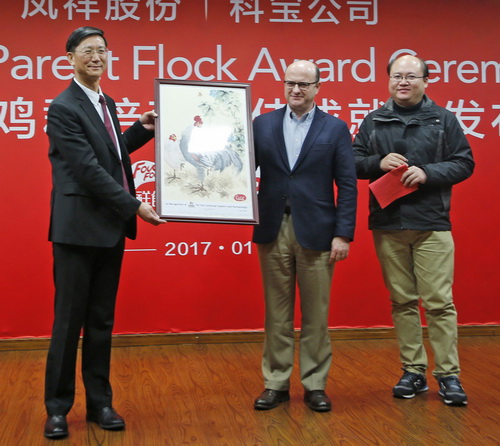 "We are here to recognize outstanding breeder performance," said Pelayo Casanovas, Cobb general manager for the Asia Pacific region. "Fengxiang's latest flock with 150 chicks is world class. It shows that genetics are important, but being professional and 'attention to detail' management is even more important. Many congratulations to the Fengxiang team for such an achievement!"
He added: "Fengxiang and Cobb share the same vision for the future of China's poultry industry and, more importantly, our core values are very similar. We commend Fengxiang for their professionalism and drive for excellence."
Wang Jinsheng, president of Fengxiang Company, said: "We thank Cobb for providing us with parent stock chicks of the highest and consistent quality, combined with first class technical service, which allows us the capture the genetic potential of the Cobb breed."
During the event, Pelayo Casanovas presented a Chinese painting to Wang Jinsheng who reciprocated with a Chinese calligraphy of "福" which means good blessing in Chinese.
The Cobb team attending the presentation included Denny Chan, director of operations for China, and Leo Wang, sales manager for China.