Aviagen Launches Newly Designed Web Site
GLOBAL - Aviagen®, the world's leading primary poultry breeder, invites customers to navigate its newly designed web site, which is now live at www.aviagen.com.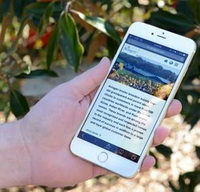 The company's new web presence features a mobile-friendly format, as well as more intuitive navigation designed with ease-of-use for customers in mind. Other distinguishing elements of the new site include content tailored to specific regions and an inviting "look and feel."
Responsive design
With its new responsive design, the site intuitively adapts to the user's device type so content readily conforms to any screen.
"This means our customers can now access our comprehensive library of production management advice and information from any location – whether in the office, on the farm or in the hatchery," says Aviagen's Global Marketing Director Marla Robinson.
This feature is a direct response to customer feedback, as well as the regular reporting and analysis of web site visitors conducted by McComm Group for Aviagen, which concluded that mobile use by Aviagen web site visitors rose from almost 7 percent in 2012 to nearly 30 percent in 2016.
This analysis is consistent with global internet usage statistics. In November 2016, independent web analytics company StatCounter reported that internet usage by mobile and tablet devices exceeded desktop access for the first time ever.
Information with a global reach and local touch
Consistent with the company's global reach, local touch business philosophy, regional access is now more convenient and the breadth of available languages has been expanded on the new site. Regionalized information is available for Europe, Asia Pacific, North and Latin America, as well as Turkey, the Middle East and Africa. Customers in those regions will be able to access, not only management advice targeted to products offered in these areas, but also local Aviagen news and events. Content will be presented in 16 world languages.
Easier navigation through Aviagen's vast Resource Center
Aviagen's comprehensive online Resource Center now includes nearly 600 documents filled with critical customer information such as handbooks, performance objectives, how-to documents, nutrition specifications, posters, tools and videos. The Resource Center includes a growing library of material translated into languages native to each region of the world. A new powerful search engine gives users accelerated access to these useful management tools.
Recommendation for optimum performance
For optimum performance, Aviagen recommends clearing internet browsing history to ensure that users are directed to the opening page upon their first visit to the new site. They will then have the opportunity to choose a local region and language.
Aviagen welcomes customers, visitors to new site
"With the robust features and tools of the new site, accessing Aviagen's wealth of knowledge and best practices has become a faster, easier and more enjoyable experience. We're pleased to be able to share the new site with our valued customers and other welcome visitors," concludes Robinson.