Cobb Shares Latest Research with CP Group
GLOBAL - Cobb senior leaders visited Charoen Pokphand in Indonesia, Thailand and China to introduce the company's latest research and development to the CP Group.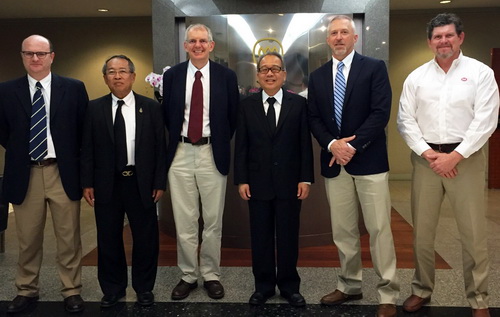 The Cobb group was led by Joel Sappenfield, president, Roy Mutimer, vice president of Asia-Pacific and EMEA regions, Dr Mitch Abrahamsen, senior vice president of research and development, Pelayo Casanovas, general manager of Asia-Pacific, and Dr Steve Bolden, director of the World Technical Support Team.
"Year over year, we have delivered to our customers an improvement of 0.02 to 0.025 FCR and 45-50 grams increase in weight gain on a 42-day-old broiler consistently over the past 20 years,"
Dr Abrahamsen commented. "However, as a direct result of continual investment in our research & development program, growth rate and FCR improvements are expected to accelerate even more with our 2017 parent stock."
In Indonesia, the Cobb group met with 15 members of the CP leadership team that included all of the regional general managers.
In Thailand, Joel Sappenfield presented a Chinese painting of a rooster and hen to the CP Group. "CP has been one of the most important customers for Cobb in the Asia-Pacific region," he said. "We thank them for their ongoing business and look forward to establishing even deeper business ties with CP Group."
In China, the Cobb group met 25 CP top-level executives and managers. During the meeting Dr Abrahamsen spoke about the new technologies that Cobb is utilizing to optimize genetic development, while Dr Bolden discussed the new recommendations for grandparent and parent stock nutrition.
The CP team commended Cobb for organizing this valuable meeting.
- CP is a Thai conglomerate company located in Bangkok. It is Thailand's largest private company and is one of world's largest conglomerates. It consists of three core businesses in agribusiness and food, retail and distribution, and the telecommunications sector with investments in over 20 countries. Founded in 1921, the CP Group employs through its subsidiaries over 500,000 people with offices and factories worldwide.