Cobb Doubles Market Share in Australia
AUSTRALIA - More than 40 customers attended Cobb's Asia Pacific Technical Seminar which took place in Sydney at Australia's iconic Intercontinental Hotel.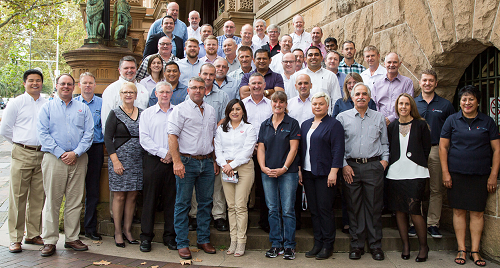 Customers from companies in Australia, New Zealand and the Pacific region included Inghams, Baiada, Cordina, Red Lea, Darwalla, Rooster Poultry, Hi Chick, Crest Poultry, Turi Foods, Woodland's and Bromley Park.
"We are very glad to be back in Sydney for our second technical seminar," said Roy Mutimer, Cobb vice president of the Asia-Pacific and EMEA regions. "A lot has happened since our last conference. We want to share with you our latest production results and more importantly, the genetic progress we have achieved with the Cobb500. As we look ahead, Australia, New Zealand and the Pacific remains an important region for our business growth."
"In the past three years, Cobb has doubled its market share in the Australian market," said Pelayo Casanovas, Cobb general manager for the region. "The Cobb500 is the breed of choice in Asia, and we hope to achieve this same goal in the Pacific region. To help make this happen, we have upgraded our genetics for the region with our latest lines now readily available for our customers, including the new Cobb Mv male."
Neal Scanlon, Cobb regional technical service director, added: "We have already seen the very first results with the new bird in Australia and New Zealand, showing excellent breed hatchability, broiler livability and feed conversion."
During the two-day event specialists from the Cobb World Technical Support Team covered such topics as breeder to broiler management, ventilation and nutrition.
The customers expressed appreciation to Cobb for organizing the annual event. Pramesh Sharma, of Rooster Poultry in Fiji, said, "The sessions were very informative and updated our team on good husbandry practices while continuing to embrace technical and genetic development."