Hy-Line International Makes Key Changes in Research and Development Team
GLOBAL - Hy-Line International, the world leader in layer poultry genetics, is pleased to announce key changes in its Research and Development team.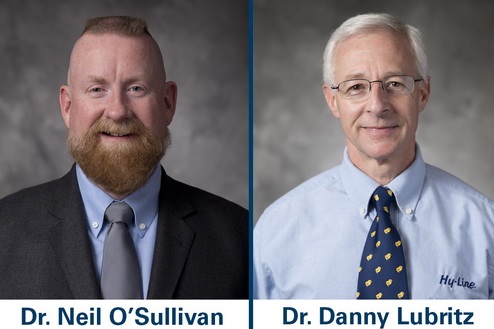 These changes are part of the continual investment in research and development to identify future market trends and proactively implement procedures within the breeding program to meet and exceed these constantly changing market requirements.
Dr. Neil O'Sullivan began the role of Director of Global Product Management on January 1. In this strategic role, Dr. O'Sullivan liaises with Hy-Line International's production centers to ensure genetic integrity is maintained at all times. He has been with Hy-Line since 1991, and was previously Hy-Line's Director of Research & Development.
"Neil's role is external and customer focused. It requires detailed knowledge of our research program and the progress that is being made in all lines, as well as management and knowledge-sharing practices on GP, PS and commercial layer varieties," said Jonathan Cade, president of Hy-Line International. "This transfer of know-how must be effectively communicated to our global distribution partners and, most importantly, to the commercial layer customers."
Dr. Danny Lubritz began his role as Hy-Line International's Director of Research & Development on January 1. He has more than 18 years of experience in quantitative genetics and was previously the Senior Geneticist for Cobb-Vantress. He will lead the Research & Development program, as well as the research team and research farm operations at Dallas Center, Iowa, USA.
"Danny's efforts will further strengthen our commitment to research and development. Developing layer genetics is our core business," explained Cade.
Founded in 1936 by Henry A. Wallace, Hy-Line was the first poultry breeding company to apply the principles of hybridization to commercial layer breeding. Today, Hy-Line International continues to be a pioneer as the first company with its own in-house molecular genetics team leading the industry in application of DNA-based technology to its breeding and genetics program. Hy-Line produces and sells both brown and white egg stock to more than 120 countries worldwide and is the largest selling layer in the American egg industry and around the world.