COBB Germany strengthens team in Hungary
The owners of the Cobb parent stock hatchery in Hungary — the Kari family — have joined the Cobb Germany sales and marketing team in the country to further enhance sales of the Cobb500 broiler breeder parent stock.
Both Jozsef Kari and his son, also Jozsef, sales and market manager in Hungary, have been introduced to customers in the market so that Hungarian speakers now have a direct local contact.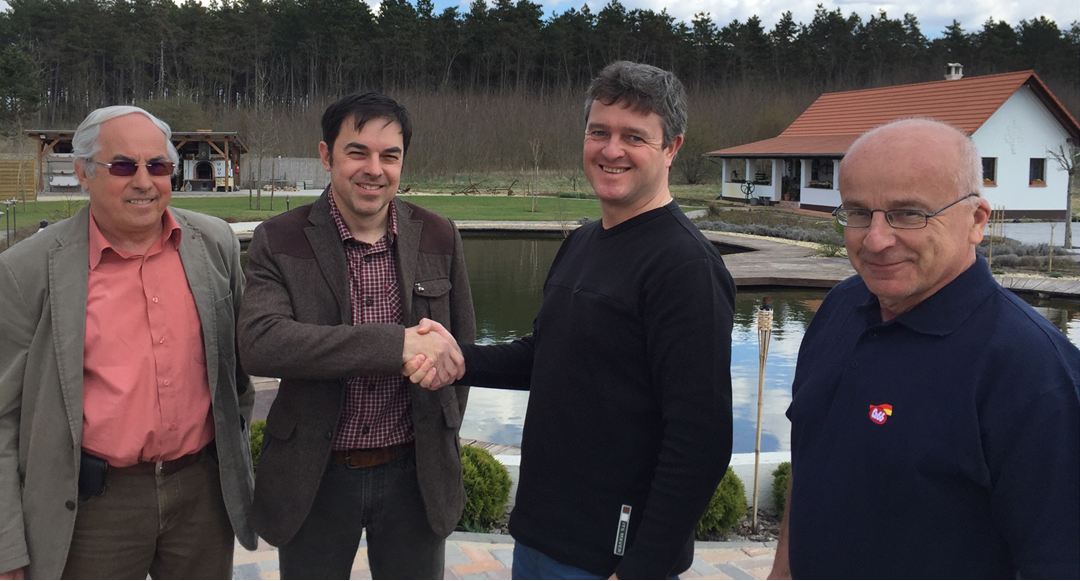 James Truscott [second right] congratulates Jozsef Kari [son] with Jozsef Kari [father] far left and Lubor Skalka far right.
Announcing the move James Truscott, director of Cobb Germany, said the Cobb500, the world's most popular broiler breed, is already the market leader in Hungary's neighbouring countries with both integrations and privately-owned operations.
"Now that companies in Hungary are looking to reduce meat production costs to counter fierce competition, they have the opportunity to benefit from the better performance of the Cobb500, originating from the Herveld breeding programme in the Netherlands.
"It is right that we should invest in local people who are close to customers as we believe in managing the daily challenges and opportunities together.
"Our international technical manager Lubor Skalka, who has been involved in Hungary for over 20 years, remains in his supporting role as well as our colleagues from Cobb Germany — in particular Saied Najati who has also worked closely in the Hungarian market to show customers the breed's economic benefits.''
Jozsef Kari, who is being trained in Germany at both the broiler and parent stock level, will be the initial contact person for customers in Hungary as demand for the Cobb500 parents is established.
He said: "This is an excellent time to join the Cobb Germany team as part of our family's Babadi operation during a period when customers are looking for a bird which suits their production goals and the stringent demands of their customers. We are all looking forward to working together as partners with our valued customers and supporting teams from Cobb."
Cobb-Vantress, Inc. is a poultry research and development company engaged in the production improvement and sale of broiler breeding stock. Cobb is the world's oldest pedigree broiler breeding company. Founded in 1916, Cobb has grown into one of the world's leading suppliers of broiler breeding stock with distribution into over 120 countries. Cobb has contributed to the dynamic efficiency and growth of an industry that has transformed chicken into an economically affordable healthy protein source for many of the over seven billion people in the world.
www.cobb-vantress.com