Aviagen opens new modern veterinary diagnostic laboratory in Crossville, Tennessee., U.S.
Aviagen® continues to further its commitment to optimal poultry health, welfare and biosecurity with the opening of a new veterinary diagnostic laboratory in Crossville, Tenn. Diagnostic testing began at the new facility in April, and the grand opening celebration is June 19.
The new diagnostic laboratory encompasses 13,680 square feet (4,170 square meters) of areas dedicated to highly specialized capabilities such as enzyme-linked immunosorbent assay (ELISA), molecular diagnostics and virus isolation testing. Other routine laboratory work will include bacteriology, serology, genomics research and pathological exams.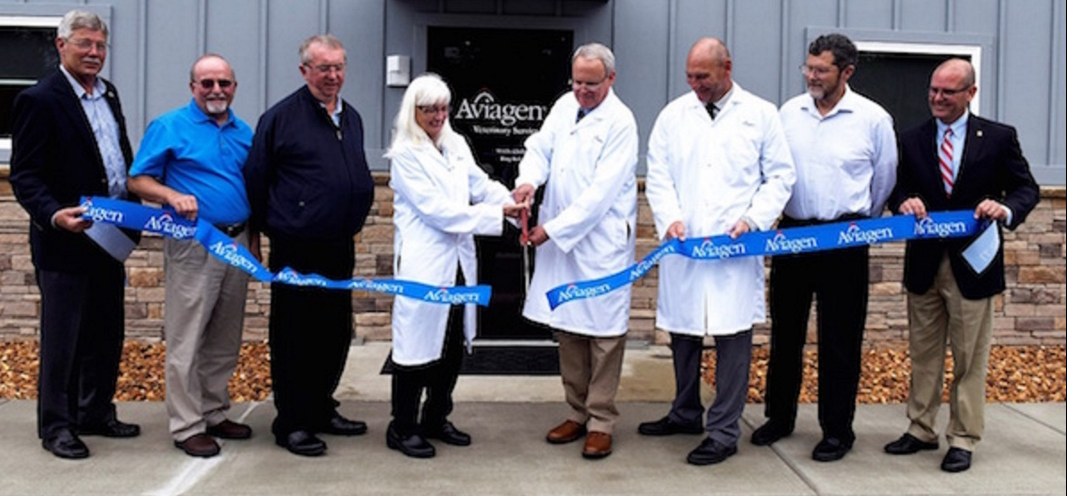 From left: Crossville Mayor James Mayberry; Bennett Harper, Aviagen Crossville general manager, Pedigree Division; Craig Morton, Aviagen global director, R&D; Carolyn Miller, Aviagen Crossville veterinarian; Eric Jensen, Aviagen vice president, Veterinary Services; Keith McCay, Aviagen director, Pedigree/Great Grandparent Operations; Greg Wood, Crossville city manager; Tom Womack, deputy commissioner, Tennessee Department of Agriculture
Crossville laboratory services pedigree poultry breeding stock
The new diagnostic laboratory replaces an existing smaller one that has been in operation in Crossville since 1994 and will serve the diagnostic needs of Aviagen's pedigree poultry breeding stock. The expansion was needed to fulfil an increasing demand for Aviagen breeds worldwide.
The Crossville laboratory is Aviagen's second in the U.S. to service internal breeding operations and numbers among the company's seven laboratories, which are strategically positioned throughout the continents. The laboratory will initially be staffed by 28 highly skilled personnel, including veterinarians, microbiologists and technicians.
Crossville laboratory meets domestic and international health requirements
The Crossville laboratory meets all United States Department of Agriculture (USDA) National Poultry Improvement Plan (NPIP) standards, as well as the International Standards Organization (ISO) 9001:2008 quality requirements. NPIP authorization is needed to conduct official health testing to ensure breeding stock and hatching eggs can be sold within the U.S. and exported to other countries.
"The Crossville laboratory features modern equipment, leading technology and the industry's most advanced expertise," says Keith McCay, Aviagen's director of Pedigree/Great Grandparent Operations. "Through its advanced capabilities, it provides the level of diagnostic services needed to continually monitor and protect our flocks against harmful pathogens."
"Aviagen remains dedicated to the health, welfare and safety of our quality breeding stock. As we broaden the reach of our business both domestically and globally, this new laboratory will help us continue to effectively safeguard our elite pedigree breeding stock," adds Dr. Eric Jensen, vice president of Veterinary Services for Aviagen North America. "Maintaining the highest standard of biosecurity has always been and will remain a foremost priority for Aviagen."
Aviagen recognizes Danny Dillard, Highland Construction
McCay also recognizes the efforts of Danny Dillard of Highland Construction for making the new laboratory a reality. Dillard and his team went above and beyond to effectively meet our specialized facility needs and quality requirements, while adhering to an aggressive timeline for completion."
Mayor Mayberry commends new Crossville laboratory
Crossville Mayor Mayberry says he's proud to have Aviagen as part of his community and wishes the company continued success."Aviagen has been an important part of Crossville for many years, with several facilities located in our community," says Crossville Mayor James Mayberry. "We are pleased to see the successful expansion of Aviagen with this new diagnostic laboratory, as well as the progress and prospect of new jobs it may bring."
About Aviagen
Since 1923, Aviagen® has established itself as the world's leading poultry breeding company, developing pedigree lines for the production of commercial broiler chickens under the Arbor Acres®, Indian River®, and Ross® brand names. The Rowan Range® and Specialty Males® are specialty breeding stock from Aviagen that offer greater flexibility for customers to meet specific or niche market requirements. The company is based in Huntsville, Alabama, USA with a number of wholly-owned operations across the United Kingdom, Europe, Turkey, Latin America, India, Australia, New Zealand, and the U.S., and joint ventures in Asia. Aviagen employs more than 3,900 people and has a distribution network serving customers in more than 100 countries.
For further information, please visit www.aviagen.com.