OIE Reports H5N8 Outbreak in South Africa
SOUTH AFRICA - The South African veterinary authorities have report an outbreak of highly pathogenic avian influenza (HPAI) at a commercial broiler breeder farm in Mpumalanga.
Dr Bothle Michael Modisane, Chief Director at the Department of Agriculture, Forestry and Fisheries, Animal Production and Health in Pretoria sent an immediate notification to the World Organisation of Animal Health (OIE) on 22 June.
The report states that the outbreak was initially observed on 19 June and after a polymerase chain reaction (PCR) test was carried out at the Agricultural Research Council - Onderstepoort Veterinary Institute on 22 June, the presence of the H5N8 avian flu virus was confirmed.
A total of 24,000 broiler breeders were found susceptible, out of which 5000 cases and deaths were reported. The process of culling the remaining 19,000 birds has already begun.
According to an epidemiological comment by the OIE, co-ordinates have been modified to protect confidentiality as required by the South African Legislation.
Several control measures have been applied, some of which include surveillance within containment and/or protection zone, traceability, quarantine, prohibition of vaccination. As a precautionary measure, none of the affected birds are to receive treatment.
Aside from the measures already applied, other measures to be applied are official destruction of animal products, official disposal of carcasses, by-products and waste, stamping out and disinfection.
The source of the outbreak has not yet been determined, reports OIE.
The map below shows the location of the outbreak: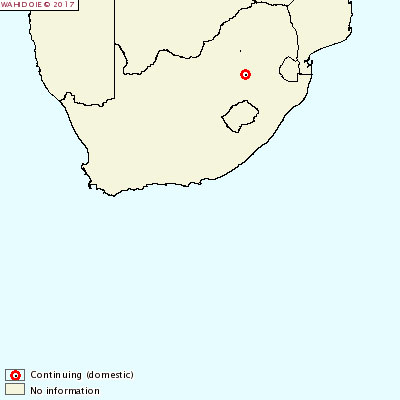 Further Reading
You can visit the Avian Flu page by clicking here.