VIV Russia 2017 Show Presents Valuable Opportunities for Aviagen LLC
Aviagen® LLC has announced that VIV Russia 2017 presented an excellent opportunity to network and share important best practices and flock management advice with customers and key industry allies throughout Russia and neighboring countries.
Taking place May 23-25 at the International Crocus Exhibition Center in Moscow, this year's VIV Russia trade show for animal husbandry and processing welcomed a high number of visitors. Once every two years VIV Russia showcases developments in a "feed-to-food" concept that focuses on every step of the meat production process.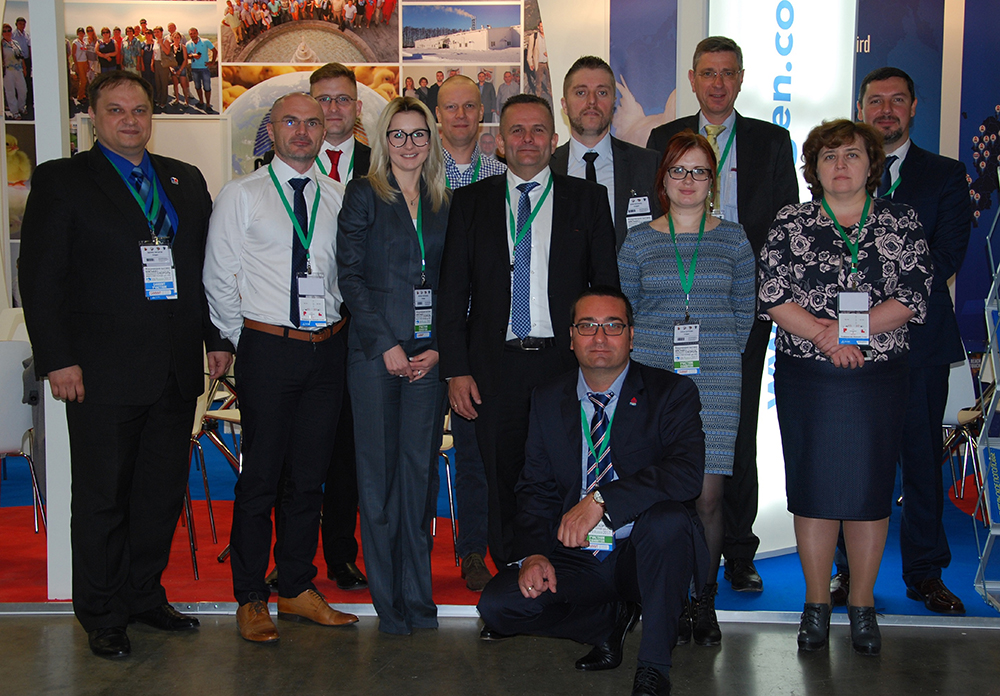 Aviagen, the world's leading poultry breeding company, has experienced a steady climb in success throughout the region as a result of the growing success of its Ross® breeding stock.
Aviagen LLC grows steadily along with Ross 308
During the two years since the previous VIV Russia in 2015, Aviagen LLC has experienced sustained growth in production volume, as well as in Ross 308 customers. Ross 308 poultry breeding stock continues to gain in popularity throughout the region.
Aviagen's operation in Yasnogorsk (Tula Region), Russia, includes four grandparent poultry farms and an up-to-date hatchery, all built according to high quality standards and with the best biosecurity system in Russia.
Tyark Osterndorff, Aviagen's Eastern Europe business development director, says that Aviagen continues to increase its investment to keep up with a growing demand for Ross products throughout the region.
"Our hatchery is increasing its volumes, while two more grandparent poultry farms are being built," he says. "We will soon have the capacity to supply up to 60 percent of Russian poultry operations with our hatching eggs. Our constant growth is closely related to an increasing number of orders for Ross 308 parent stock. This expansion is due to an acquisition of new customers, as well as an increase in orders from existing customers. We are very glad that our customers have been growing together with us!"
Ross 140 and 400 Club winners awarded.
Besides meetings and discussions on various business issues, Aviagen also awarded the new members of Ross 140 Club and Ross 400 Club at VIV Russia. Agricultural holding company Miratorg received bronze trophies and Ross 140 Club GOLD certificates for the following results:
| | | | | |
| --- | --- | --- | --- | --- |
| Company | HE/HH | Hatchability% | Chicks/HH | Status |
| Miratorg | 170,3 | 86,0 | 146,45 | GOLD |
| Miratorg | 175,9 | 81,4 | 143,17 | |
Krasnodonskoye CJSC has joined the ranks of the Ross 400 Club GOLD for achieving a Broiler Production Efficiency Factor (EPEF) higher than 425:
| | | | | | | |
| --- | --- | --- | --- | --- | --- | --- |
| Company | Weight (kg) | Age (days) | Mortality% | FCR | EPEF | Status |
| Krasnodonskoye | 2,649 | 39,70 | 2,10 | 1,49 | 438 | GOLD |
Marcel Janssen, Regional Technical Manager, Eastern Europe and the Commonwealth of Independent States (CIS), pointed out, "I was happy to see most of our Russian customers at the exhibition. We welcome these informal meetings as an opportunity to listen to questions and suggestions on our technical training and support. We use this feedback to make strategic decisions to improve our service to customers. I would like to congratulate Miratorg and Krasnodonskoye on their achievements, which demonstrate the exceptional performance that can be reached with Ross broiler breeding stock when effective management practices are applied."
About Aviagen
Since 1923, Aviagen® has established itself as the world's leading poultry breeding company, developing pedigree lines for the production of commercial broiler chickens under the Arbor Acres®, Indian River®, and Ross® brand names. The Rowan Range® and Specialty Males® are specialty breeding stock from Aviagen that offer greater flexibility for customers to meet specific or niche market requirements. The company is based in Huntsville, Alabama, USA with a number of wholly-owned operations across the United Kingdom, Europe, Turkey, Latin America, India, Australia, New Zealand, and the U.S., and joint ventures in Asia. Aviagen employs more than 3,900 people and has a distribution network serving customers in more than 100 countries.