Cobb champion awards go to South Africa
Two Cobb Champion Awards have gone to companies in South Africa – Quantum Foods and RCL Foods. The awards were introduced last year to recognize annual world-class performance at breeder, broiler and hatchery levels in Europe, the Middle East and Africa.
Quantum Foods gained a breeder award for achieving 146.3 chicks / bird to 60 weeks while RCL Foods gained a hatchability award for achieving an 86.76 percent average hatch to 60 weeks.
Award presenter Pieter Oosthuysen, Cobb senior manager of accounts and technical service in Africa, said achieving good hatchability and fertility is key in South Africa as the alternative of spiking is expensive. Spiking refers to the introduction of additional males during the production period to enhance fertility.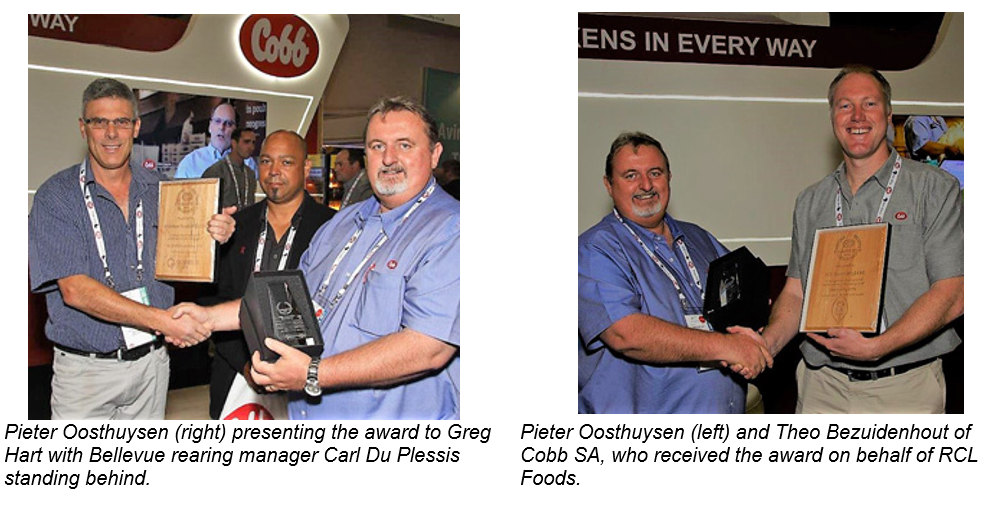 "Producers hatch in excess of 86 percent on average and this, combined with good egg production, makes the Cobb500 the breed of choice," Oosthuysen said.
Greg Hart, breeder manager of Quantum Foods, said the recognition of performance is appreciated and a motivation for all involved.
"We do recognize that the results achieved are a product of teamwork from people across various disciplines, starting with the Cobb breed and team and ending with the person in each poultry house," Hart said.
Cobb-Vantress, Inc. makes quality protein accessible, healthy and affordable worldwide. Our research and technology innovates the global poultry industry. With headquarters in Siloam Springs, Arkansas, we are the world's oldest pedigree broiler breeder. We distribute poultry to more than 120 countries.
Visit cobb-vantress.com to learn more.