Aviagen hosts industry's leading veterinary minds at global veterinary seminar
More than 100 poultry veterinarians from 20 countries turned out in Edinburgh on Sept. 4 for the Aviagen® Global Veterinary Seminar, where they gained important insight into current developments affecting poultry health, biosecurity and safety. The seminar gave attendees a unique opportunity to exchange current experiences, knowledge and challenges with their colleagues from far and wide.
The video provides a first-hand look at the seminar, as speakers and delegates alike share their impressions.
Event taking place alongside 20th annual WVPA
It is no coincidence that the event was planned during the 20th World Veterinary Poultry Association (WVPA) Congress, held the week of Sept. 3-8. This year's Edinburgh venue for the Congress presented the ideal opportunity to host a veterinary seminar at the home of the Aviagen U.K. breeding program and birthplace of the Ross® brand, and at a time when many poultry veterinarians from around the world would be gathered together.
The seminar was hosted by Aviagen specifically for these veterinarians, who play such an important role in the industry, working hard each day to strengthen the biosecurity, health, security and safety of global poultry supply.
Drawing from the perfect knowledge base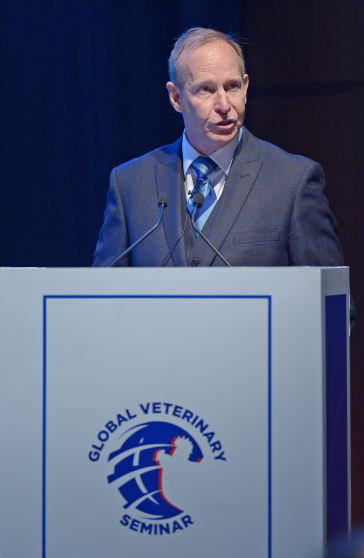 During the gathering, leading Aviagen and external experts shared their scientific knowledge and field experience on a number of subjects.
The event was opened by Dr. Graeme Dear, general manager, Aviagen U.K. Ltd. Dear emphasized Aviagen's responsibility to ensure an uninterrupted supply of healthy breeding stock to customers, who offer the world's growing population a nutritious and affordable food source.
Participants gained a glimpse into the "chicken of the future" during a presentation by Magnus Swalander, general manager, Aviagen Ltd., on the future goals of Aviagen's successful balanced breeding program.
International expert Professor Dr. Michael Hess, head of the department for farm animals and veterinary public health, Vienna Veterinary University, also shared his knowledge and field experience on Fowl Aviadenovirus Infections and Histomonosis, while the threat of new and emerging diseases was addressed by Aviagen's Global Head of Veterinary Services, Dr. Nick Dorko.
Securing a global food supply
Toward the of end the seminar, the focus shifted to Avian Influenza, when Professor Ian Brown, a U.K. national expert on avian influenza (AI), Head of Virology at Weybridge and Director of EU/OIE/FAO International Reference Laboratories for Avian Influenza, spoke on the ongoing AI threat, the evolving nature of the virus, and the subsequent need for the highest biosecurity possible.
Director of Global Health Monitoring, Aviagen Group, Dr. Bill Stanley highlighted the benefits of Compartmentalization during times of an outbreak of AI. The concept was developed by the World Organization for Animal Health (OIE) as a means to continue supply during times of a notifiable disease outbreak. Stanley spoke of Aviagen U.K.'s compartment status and the export benefits already realized through the ability to continue product supply during recent disease outbreaks. In addition to the U.K., Aviagen has also achieved compartment status in India and is at an advanced stage in receiving compartment status in the U.S.
Offering a global reach and local touch
Aviagen is a leading supplier of quality poultry breeding stock, with a distribution network serving customers in more than 100 countries. While maintaining its global reach, its focus remains on promoting the success of local people in local communities. The businesses of local poultry producers are supported by a large organization of nutritionists, hatchery experts, veterinarians and other poultry specialists located close to customers throughout the world. Some of the 27 members of the Aviagen Global Veterinary Team were on hand at the seminar to welcome and mingle with their guests.
Perspectives on the seminar
Dr. Dan Pearson, Aviagen veterinary health director, Europe, and key seminar host, gave his perspective on the goal for the seminar: "Bird health is one of the most important aspects of what we do as a business. Because everyone in the room has been touched in one way or another by Avian Influenza, one of our focus points was simply to share our experiences on how to effectively deal with this disease. Our ongoing priority is to prevent AI from affecting birds and make sure we're able to export our stock around the world, so our customers can seamlessly continue their business of feeding the world's growing population, which is expected to reach 9.7 billion by 2050. I hope all participants were able to gain useful knowledge and establish valuable connections with their veterinary colleagues that they're able to maintain for years to come."
"I was impressed by the quality of the speakers at the Aviagen seminar, which provided a deeper look at specific issues in the field and how to manage them," said Obed Lukhele, veterinary executive, Astral Operations Ltd.
"I enjoyed the networking opportunities provided by the seminar," said Dr. Michael Hess of the University of Vienna, Austria. "In the modern age of digitalization, seminars provide the personal contact, which is still a very important part of doing business."
About Aviagen
Since 1923, Aviagen® has established itself as the world's leading poultry breeding company, developing pedigree lines for the production of commercial broiler chickens under the Arbor Acres®, Indian River®, and Ross® brand names. The Rowan Range® and Specialty Males® are specialty breeding stock from Aviagen that offer greater flexibility for customers to meet specific or niche market requirements. The company is based in Huntsville, Alabama, USA with a number of wholly-owned operations across the United Kingdom, Europe, Turkey, Latin America, India, Australia, New Zealand, and the U.S., and joint ventures in Asia. Aviagen employs more than 3,900 people and has a distribution network serving customers in more than 100 countries.
For further information, please visit www.aviagen.com.