Thai CP group poultry course 'part of global vision'
About 40 participants from 10 countries gathered recently at Sikhiu Learning Center in Thailand for the 5th CPF Poultry Production Course – helping to move towards the company's vision of becoming The Kitchen of the World.
The two-week course, organized with Cobb, attracted delegates from Bangladesh, Philippines, Vietnam, Myanmar, India, Cambodia, Malaysia, Taiwan, Turkey and Thailand, and was opened by Nopphadon Sirijongdee, deputy chief operating officer of the CP Group. He said: "To help fulfill our global vision the course will provide expert knowledge about improving quality and productivity, and be a great opportunity to share experiences between participants and speakers."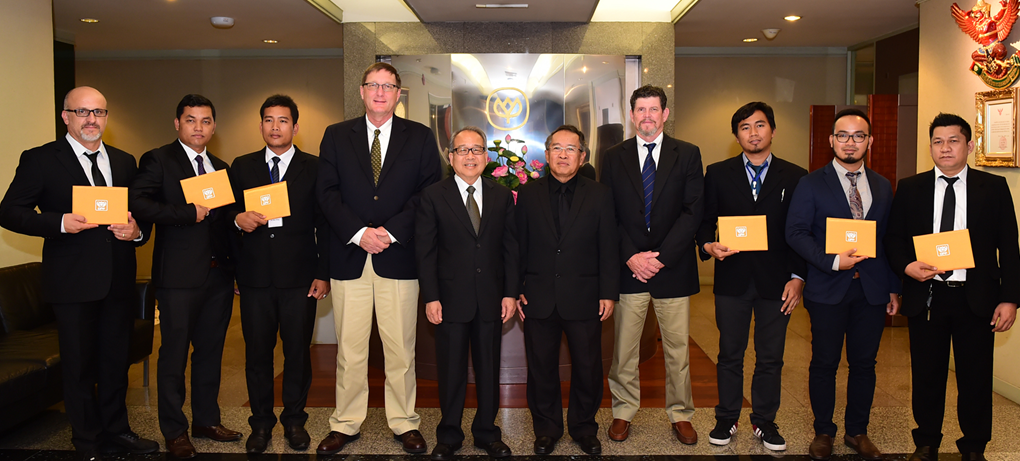 From left to right: Mr. Tarik Tug C.P. Turkey Mr.Ben Suvannara C.P. Cambodia Mr.Men Thong C.P.Cambodia Dr. Steve Bolden, Managing Director of World Tech Support-Cobb Mr. Virachai Ratanabanchuen, Chief Operating Officer & President of Broiler Business Group- C.P.F. International Mr. Prajit Undoon, Executive Vice President-C.P.F. International Mr. Charles Calvert, Director of Key Accounts-Cobb Mr. Mohd Hazrul Hazwan Bin Belah C.P. Malaysia Mr.Muhummad Naqip Bin Belah C.P. Malaysia Mr. Ratthakit Jirapattanapuwanon C.P. Taiwan
The CP Group is already making a major impact in the poultry world. With production and processing facilities in 16 countries, CPF has products sold in more than 30 countries across five continents and reaching an estimated three billion people. The group prides itself on its meticulous care in delivering safe food products to cater for different global palates.
Pelayo Casanovas, general manager of Cobb Asia-Pacific region, spoke about Cobb's advance in broiler genetics: "We have successfully launched our new male, the Cobb MV, across different regions of the world. Our field data shows broilers from the MV male to be very efficient at converting feed into bodyweight, coupled with excellent livability."
Course tuition was provided by the Cobb World Technical Support Team covering all aspects of poultry production — breeders, hatcheries, broilers, environment, health, processing and nutrition.
Dr. Steve Bolden, Cobb director of world technical support, said: "We are glad to be supporting CP's business by sharing our experience and knowledge. Indeed, it's a great honor to work with one of the world's leading poultry businesses".
The course featured visits to Pakthongchai feed mill, CPF processing plant and the CP Leadership Development Institute.
Cobb-Vantress, Inc. makes quality protein accessible, healthy and affordable worldwide. Our research and technology innovates the global poultry industry. With headquarters in Siloam Springs, Arkansas, we are the world's oldest pedigree broiler breeder. We distribute poultry to more than 120 countries. Find more at cobb-vantress.com.