Zoetis Influence Feed - October 2017
Every 2 weeks the team at Zoetis share the Top 5 Influencer Topics in the agriculture industry.
Subscribe here to receive the Influence Feed directly.
1: CA Wildfires
Wildfires in California — primarily in Northern California's wine country region — claimed more than 30 lives and forced the evacuation of 20,000 residents, affecting the local wine industry in addition to other members of the local agriculture community (Los Angeles Times).
The San Francisco Chronicle highlighted the plight of local livestock owners. Meatingplace checked in (login required) with local meat processing companies. Politico Morning Agriculture added that the damage could add to demand for USDA relief funds in a year when hurricanes have already contributed significantly.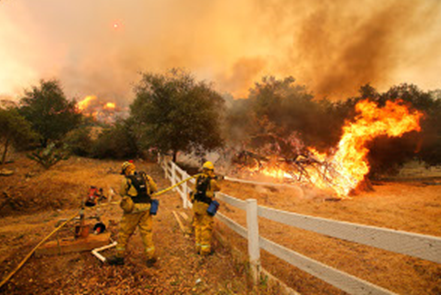 2: San Francisco Antibiotics Reporting
In a first, the San Francisco Board of Supervisors passed an ordinance on Oct. 3 that requires all large grocery stores in the city to disclose antibiotic usage in their meat and poultry products annually (Feedstuffs, paywall).
Food Safety News reported that "San Francisco board members and city officials contend the ordinance will not only provide consumers with information about [how] their food is produced, but will also put pressure on meat and poultry producers to reduce the use of antibiotics in their animals."
Natural Resources Defense Council cheered, "SF is poised to make a real difference."
Food Marketing Institute President and CEO Leslie G. Sarasin countered, "Grocery stores strive to provide customers with information that helps guide them in making the best choices for themselves and their families. The San Francisco ordinance adds an entirely unnecessary, costly and potentially confusing layer of paperwork to this issue."
3: Soda Tax
On Oct. 11, the Cook County Board of Commissioners (which governs the greater Chicago area) voted to roll back its soda tax two months after it went into effect (Chicago Tribune).
A spokesman for former New York City Mayor Michael Bloomberg told The Washington Post, "We don't expect to win everywhere. We want to win most places and we are winning most places. We'll continue to go forward and fight the soda industry in jurisdictions that want to protect the health of their citizens."
However, according to Politico Morning Agriculture, American Beverage Association spokeswoman Lauren Kane challenged, "We see this as a momentum swing. People are just saying we want the government to find other ways to pay for their priorities rather than taxing working people."
The Washington Post explained, "It's well-acknowledged on both sides that local soda tax skirmishes are essentially proxy wars between the national soda industry and well-monied public health groups."
On Oct. 10, The Wall Street Journal hosted the Global Food Forum in New York City, featuring highly influential speakers from the agriculture and food world, including:
Sonny Perdue (secretary, USDA)
Dr. Scott Gottlieb (commissioner, FDA)
Tom Hayes (president and CEO, Tyson Foods, Inc.)
Joe Stone (executive vice president and chief risk officer, Cargill, Inc.)
Hugh Grant (chairman and CEO, Monsanto Company)
James C. Collins, Jr. (chief operating officer, Agriculture Division, DowDuPont)
Mehmood Khan, MD (vice chairman and chief scientific officer, PepsiCo, Inc.)
W. Rodney McMullen (chairman and CEO, The Kroger Co.)
Uma Valeti, MD (co-founder and CEO, Memphis Meats)
Ethan Brown (co-founder and CEO, Beyond Meat)
Attendees quoted influencers on Twitter (using the hashtag #WSJFood) during their presentations. In addition, the paper covered the event with a series of articles on presentations by Secretary Perdue on food stamps, FDA Commissioner Gottleib on health claims on food packaging, and grocery influencers considering the ramifications of Amazon in the market.
5: USDA Leadership
On Oct. 3, the Senate confirmed two USDA nominees: Steve Censky for deputy secretary of agriculture, and Ted McKinney for the newly created position of under secretary for trade and foreign agricultural affairs (Feedstuffs).
Censky previously served as CEO of the American Soybean Association (ASA), and McKinney had been the Indiana agriculture director since 2014. Agriculture Secretary Sonny Perdue stated, "We eagerly await their arrival at USDA, and urge the Senate to continue to act on other nominees who are awaiting confirmation."
Politico Morning Agriculture reported that nominees Greg Ibach, Nebraska's director of agriculture, and Bill Northey, Iowa's secretary of agriculture, sailed through their Senate Agriculture Committee hearing and await a full Senate vote.