Zoetis: October consumer pulse
Over this two-week period, farming methods received the highest conversation volume on social media with 15,369 mentions out of 48,772 for the entire profile.
Subscribe here to receive the Influence Feed directly.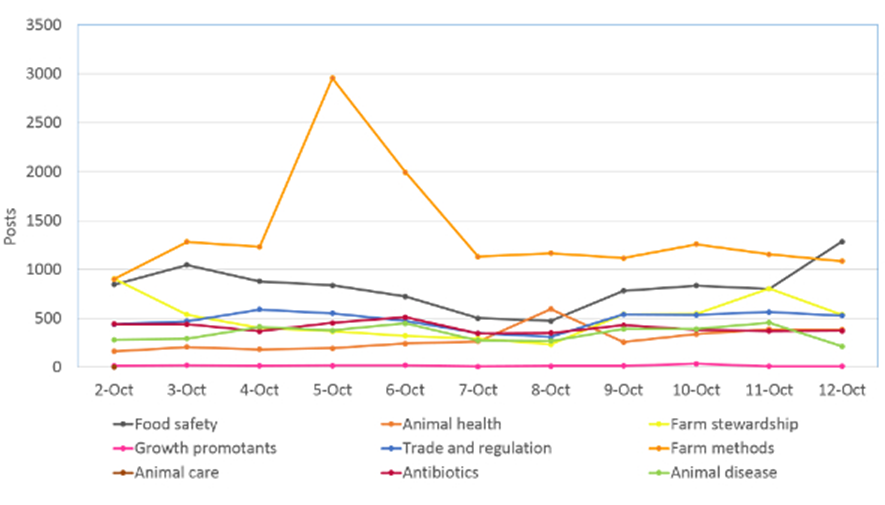 Food safety was the second highest profile, with 9,201 mentions in this period. An article in The Intercept drove volume of farming methods conversations. Activities surrounding an activist-motivated capture of two pigs from a Smithfield farm in Utah and an investigation into the incident prompted responses by animal rights supporters.
The politicized situation in Puerto Rico also caused some movement under food safety, based on the situation there with contaminated water and lack of food. A tweet from @ProfSybill (a Harry Potter character) digged at President Trump for tweeting about the inability to keep FEMA and others in Puerto Rico "forever." A turkey recall (see poultry below) also added traffic to food safety.
Poultry Social Topic Analysis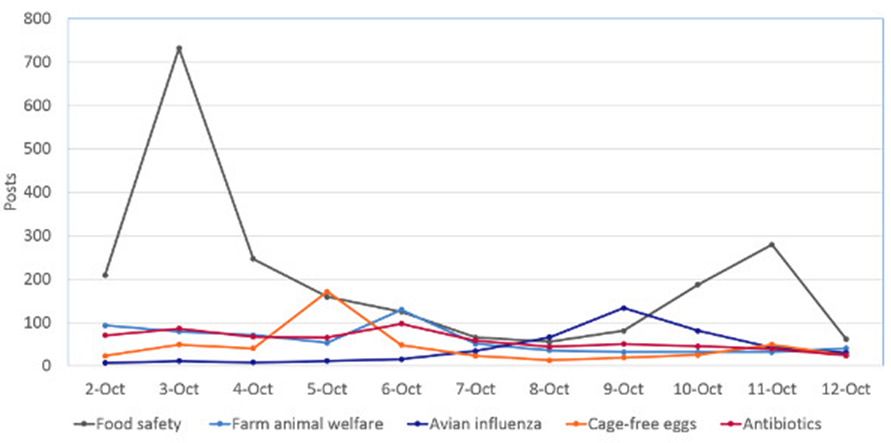 Over the last two weeks, food safety trended highest in the poultry category with 2,200 total mentions out of 4,411 for all of poultry terms monitored. A ground turkey recall caused a spike in social media conversations as Prestage Foods recalled 38,000 pounds of product on Oct 3.
The turkey was suspected of containing metal shavings. BBC News reported that the Food Standards Agency in the U.K. announced "Lion mark" eggs were declared safe to eat 30 years after a UK Salmonella crisis. The Facebook video post received more than 1 million views, including shares in the United States.
There was a bump in cage-free conversations on Oct. 5, when Humane League released a campaign against U.K. hotel chain Britannia Hotels using #BoycottBritannia. This campaign also garnered some support on U.S. social media.