Avoid the summertime drop in production with practical tips from Hypor
A breadth of poultry management topics ranging from good breeder performance to cost-effective broiler nutrition were on the agenda at the joint Aviagen® and KegoAgri customer seminar, which took place on Nov. 7 in Athens, Greece.
The seminar met goals of strengthening relationships and sharing advice to boost Ross performance and productivity.
KegoAgri is the sole distributor of Aviagen's Ross® broiler parent stock in the Greece and Cyprus markets, and the event was a great example of the close collaboration between Aviagen and KegoAgri to promote the success of Ross customers and the growth of the Ross brand throughout the region.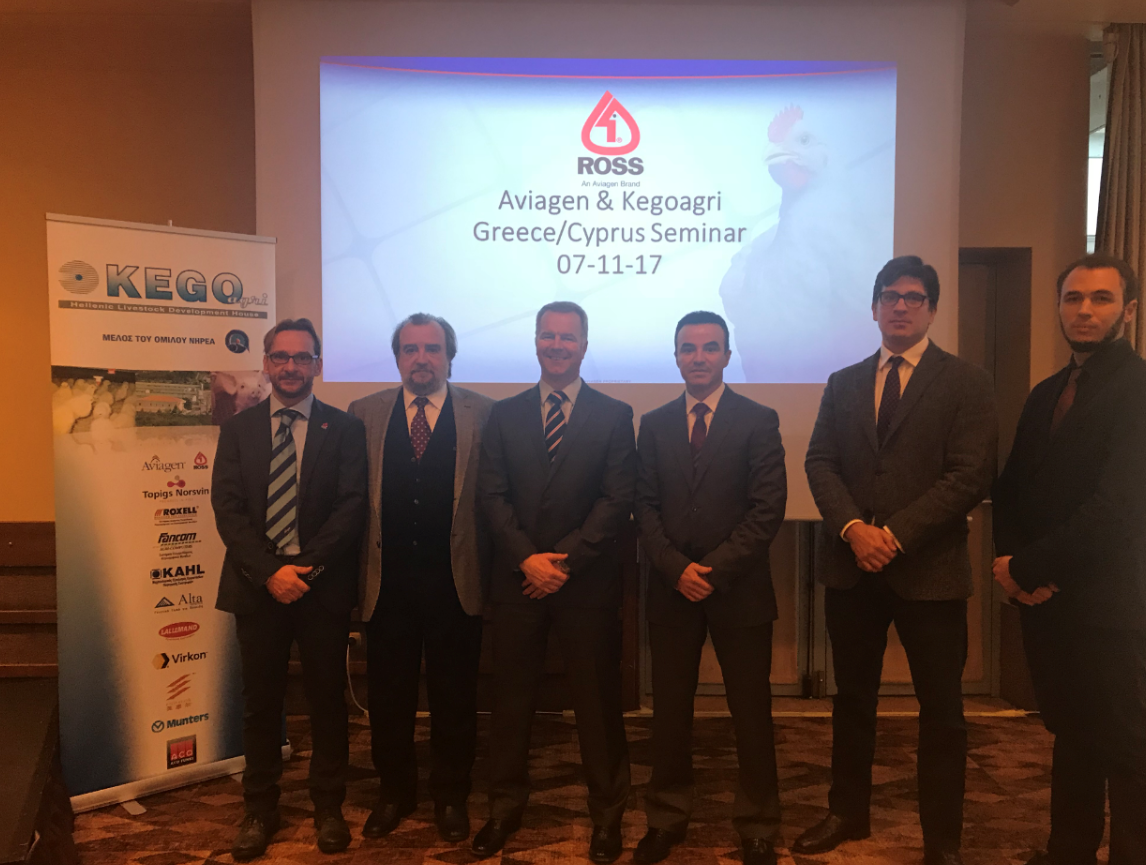 Latest best practices for broiler and breeder management
The seminar provided the ideal opportunity for Aviagen and KegoAgri to share best practices to help broiler and breeder poultry producers improve the health and performance of their flocks and the profitability of their businesses.
A variety of the latest broiler and breeder information was presented, including the vital significance of the brooding period for broilers and breeders, the importance of rearing management for good breeder performance, the economic impact of genetic improvement on production, and how to effectively reduce the cost of broiler nutrition.
Abundant learning and networking opportunities
In attendance at the event were 45 delegates, who represented 90 percent of the poultry industry in Greece and 50 percent in Cyprus. These delegates included veterinarians, hatchery and broiler production managers as well as executives, and the seminar offered a setting where they could exchange ideas and talk about challenges and opportunities.
Zoi Prentza, attendee from the Cooperative of Pindos, and veterinarian responsible for broiler production, expressed her views on the benefits of the seminar, "Thank you for giving me the opportunity to attend this event. It was indeed very interesting and stimulating for me, with a perfect mix of topics, people, science and relationship-building."
KegoAgri and Aviagen representatives review the seminar
Achilleas Stefanou, KegoAgri, said, "Our goal for this event was to help our customers, whether they are broiler companies, hatcheries or integrators, to improve in specific areas of their business as there is always ample room for advancement.
Our customers really appreciated the focused presentations of all speakers and are eager to work with us to consistently enhance performance. We thank the Aviagen team for the support and knowledge they provide through events like this."
"This was the first time we've hosted both broiler and breeder producers from Greece and Cyprus together to offer specific knowledge in genetic improvement, flock management and nutrition," explained John Stamoulis, general manager, Greek subsidiaries, Nireus Group of Companies. "Customers were impressed by the quality of the speakers and the interesting topics. Because knowledge is our ongoing priority, more events like this will follow in the future,"
"We'd like to congratulate KegoAgri on a well-organized event and thank them for their tremendous work as a Ross distributor. Aviagen values customer seminars as opportunities to meet customers personally; hear their stories and share information that will advance their success," concludes Alan Thomson, Aviagen regional commercial and technical manager, Europe.
About Aviagen
Since 1923, Aviagen® has established itself as the world's leading poultry breeding company, developing pedigree lines for the production of commercial broiler chickens under the Arbor Acres®, Indian River®, and Ross® brand names. The Rowan Range® and Specialty Males® are specialty breeding stock from Aviagen that offer greater flexibility for customers to meet specific or niche market requirements. The company is based in Huntsville, Alabama, USA with a number of wholly-owned operations across the United Kingdom, Europe, Turkey, Latin America, India, Australia, New Zealand, and the U.S., and joint ventures in Asia. Aviagen employs more than 3,900 people and has a distribution network serving customers in more than 100 countries.
For further information, please visit www.aviagen.com.