Wadi Group hosts second internal training academy for next generation of poultry professionals
Aviagen shares latest breeding information with Wadi staff in Egypt.
Aviagen ®'s distributor of Ross® 308 chicks in Egypt, the Wadi Group, hosted its second training school for staff in Cairo from Nov. 19-23. Wadi Poultry Academy II (WPA II) was held at the company's training center, where experts from the Aviagen Ross Middle East & Africa (MEA) and Wadi teams shared their knowledge with Wadi's next generation of poultry professionals.
The school, focusing on breeder management, was attended by 22 members of Wadi's Grandparent (GP) and Parent Stock (PS) production and technical services teams, as well as representatives from INMAA, Wadi's subsidiary in Sudan.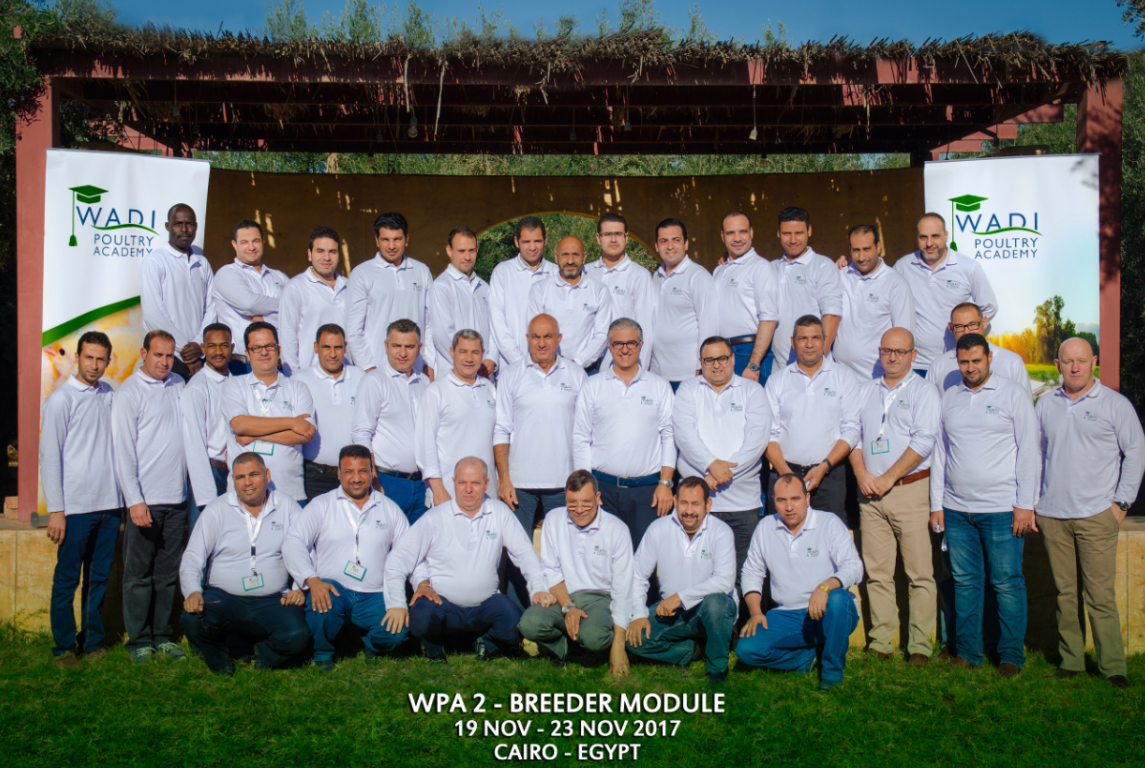 Knowledge-filled sessions led by Ross experts
The five-day event included interactive and practical sessions, presentations and quizzes for attendees.
A number of experts from Aviagen's Ross MEA team presented at the event, including Ibrahim Ibrahim, technical service manager Ross MEA, who discussed female and male management. Senior Technical Manager Ross TMEA, Robert Haggarty gave an overview of lighting methods and light types and hosted a workshop on chick grading. Breeder house ventilation was also covered by Technical Service Manager Ross MEA, Murat Yakar. Aviagen Regional Technical Service Veterinarian Pavel Shkarlat provided insight into evaluating chick quality.
Planning for the future of the WPA
Wadi Group now plans to open its schools to its PS and broiler customers next year, with the aim of making the WPA a major event on the Egyptian poultry industry calendar.
Chief Poultry Sector at Wadi Group, Puzant Dakessian, explained: "Wadi Group has been internally investing in education for over 30 years, ensuring that our team is up to date with the latest information in poultry practices. We are excited to expand on the Wadi Poultry Academy in 2018 where we plan to invite our customers to attend future events. On behalf of the Wadi Group, I would like to thank Aviagen for its continuous support. Aviagen's confidence and belief in the concept of 'training the trainer' is highly appreciated. In particular, Aviagen's contribution to the Wadi Poultry Academy, not least in sharing its expertise at both of our school events this year, has been a key factor in making them a success."
Bulent Tanyildizi, international commercial manager, Ross MEA, also attended the event and added: "We're proud to work hand-in-hand with Wadi, our Ross distributor in Egypt, a key region in the MEA market. Aviagen shares a mutual philosophy with the Wadi Group on the importance of education and sharing of information. We look forward to further events and collaboration as Wadi grows its educational portfolio."
About Aviagen
Since 1923, Aviagen® has established itself as the world's leading poultry breeding company, developing pedigree lines for the production of commercial broiler chickens under the Arbor Acres®, Indian River®, and Ross® brand names. The Rowan Range® and Specialty Males® are specialty breeding stock from Aviagen that offer greater flexibility for customers to meet specific or niche market requirements. The company is based in Huntsville, Alabama, USA with a number of wholly-owned operations across the United Kingdom, Europe, Turkey, Latin America, India, Australia, New Zealand, and the U.S., and joint ventures in Asia. Aviagen employs more than 3,900 people and has a distribution network serving customers in more than 100 countries.
For further information, please visit www.aviagen.com.