Aviagen looks forward to IPPE 2018, earns longstanding exhibitor accolades
This year the International Production and Processing Expo (IPPE), hosted by the US Poultry and Egg Association (USPEA) in Atlanta, will signal a special occasion for Aviagen®.
Among a line-up of innovations and accomplishments to share with poultry industry colleagues and visitors, the global poultry genetics company will be recognized for 65 continuous years as a valued exhibitor at the International Poultry Expo portion of IPPE.
On Monday, Jan. 29, the USPEA honored Aviagen along with seven other veteran exhibitors at a special award ceremony held at the new Mercedes Benz Stadium in Atlanta.
"We're honored to be recognized this year for our long-time participation in the world's largest assembly of poultry professionals. For Aviagen, IPPE represents one of the year's best opportunities to reach out to our customers and colleagues – together sharing knowledge and information, exploring late-breaking industry trends and further strengthening our common bonds. Our deep-rooted relationships with poultry professionals in every corner of the world make up the foundation of our business and our continued success," says Aviagen CEO Jan Henriksen.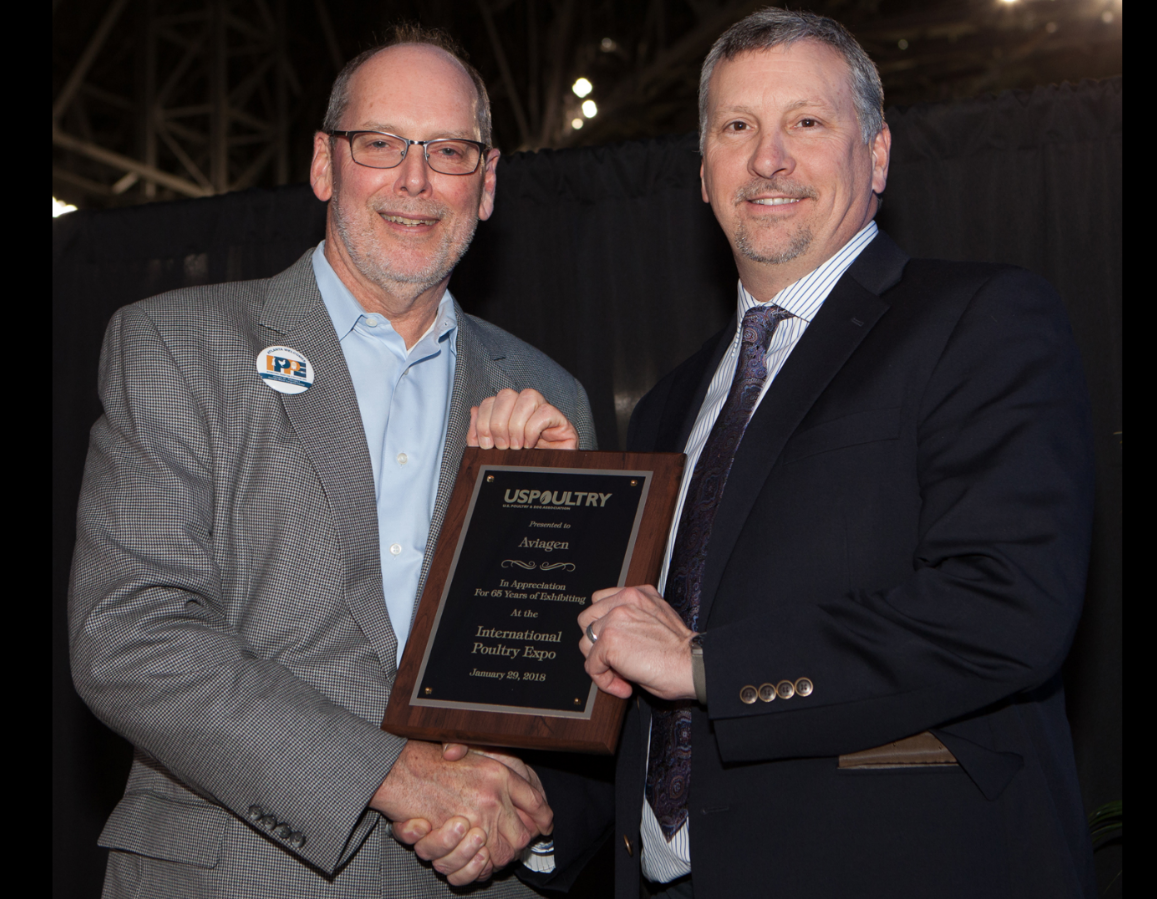 From Jan. 30-Feb. 1, IPPE 2018 will bring together 1,200 exhibitors and approximately 30,000 visitors to the Georgia World Congress Center. Each year USPEA hosts IPPE to promote innovation, education and networking among poultry professionals from across the globe.
Poultry innovation featured at Aviagen booth
Aviagen welcomes IPPE attendees to visit booth B6721, where they will receive a warm welcome by Aviagen employees and experience innovative features such as a digital signage to spotlight Aviagen's breadth of products, as well as a digital resource center. There visitors can access Aviagen's web site and request personalized information tailored to their specific regions and languages.
Aviagen experts featured in Poultry Times interviews
Aviagen is pleased to announce that two of its foremost experts will be featured in exclusive interviews by Poultry Times during IPPE, and the interviews will be streamed on Facebook Live immediately afterward.
Aviagen President of North America Kevin McDaniel will offer an overview of Aviagen as a corporation, giving unique insight into its innovative breeding program, and how it strives to provide world-class poultry breeding stock to meet ever-advancing market needs and feed a growing world population.
Director of Global Health Monitoring Bill Stanley will also be interviewed to share his in-depth knowledge on "compartmentalization" -- a much-needed solution to free up export-crippling restraints placed on trade during outbreaks of Avian Influenza (AI) and other poultry diseases.
In times past, sections of the global poultry export network have come to an abrupt halt during a disease epidemic due to bans imposed on key export countries. Introduced by the World Organization for Animal Health (OIE), compartmentalization makes it possible to export primary breeding stock from approved, biosecure farms known as clean "compartments" when avian disease strikes the exporting country.
Click here to see a brief video explaining compartmentalization with Bill Stanley.
AI-clean compartments champion reliable global poultry supply
The Stanley interview follows Aviagen's certification in October 2017 as an AI-clean compartment for facilities in the U.S. In fact, Aviagen is the first primary poultry breeder to achieve the certification from government officials in the U.S., enabling it to freely ship its premier day-old chicks and eggs to all countries that accept compartment status.
In 2010, Aviagen became the first primary poultry breeding company ever to be granted compartment status for facilities in the U.K., and later in 2015 Aviagen India's Elayamuthur facility became compartment-certified. Since compartmentalization has been in place, Aviagen has successfully exported to several countries throughout the world that recognize compartments during outbreaks of notifiable disease.
"Setting high biosecurity standards has always been an utmost goal for Aviagen and forms the cornerstone of our breeding program. We have achieved compartmentalization due to our intense biosecurity efforts to ensure that the world's communities are continually supplied with highest-quality poultry breeding stock," Henriksen tells us.
Diverse product portfolio meets array of market demands
In addition to unmatched biosecurity, another mission of the Aviagen breeding program is to offer the industry's most diverse variety of poultry breeding products to meet evolving global consumer requirements.
Aviagen's healthy and robust birds are bred to address a full spectrum of demands posed by global markets. Aviagen aims its flagship Ross®, Arbor Acres® and Indian River® brands at established markets, while the Rowan Range® line of slower-growing specialty birds are perfect for the emerging organic and free-range markets. Additionally, a Specialty Males® portfolio adds even greater breadth to breeding stock choices for Aviagen customers.
All Aviagen birds excel in market-benefiting traits such as excellent bird health and welfare, feed efficiency, meat yield, growth rate and livability.
Success through Global Reach, Local Touch strategy
IPPE will also provide the ideal forum for Aviagen to emphasize its continued success through a Global Reach, Local Touch business approach. Similar to IPPE's global reach -- attracting more than 8,000 international visitors from 129 countries -- Aviagen comprises a global team of more than 3,900 dedicated and highly skilled employees, along with offices, production facilities and export bases spanning six continents. From these locations, a consistent supply of high-quality breeding stock is shipped to customers in more than 100 countries.
Aviagen's success is largely due to its understanding of and commitment to the needs of local people in local communities. The company places the highest priority on its core values of respect and transparency with customers, partners and other stakeholders, coupled with utmost environmental and social responsibility.
About Aviagen
Aviagen® is a global poultry breeding company that develops pedigree lines for the production of commercial broiler chickens under the Arbor Acres®, Indian River®, and Ross® brand names. The Rowan Range® and Specialty Males® are specialty breeding stock from Aviagen that offer greater flexibility for customers to meet specific or niche market requirements. The company is based in Huntsville, Alabama, USA with a number of wholly-owned operations across the United Kingdom, Europe, Turkey, Latin America, India, Australia, New Zealand, and the U.S., and joint ventures in Asia. Aviagen employs more than 3,900 people and has a distribution network serving customers in more than 100 countries.
For further information, please visit www.aviagen.com.
Aviagen and the Aviagen logo, Ross and the Ross logo, Arbor Acres and the Arbor Acres logo, and Indian River and the Indian River logo, Rowan Range and the Rowan Range logo, Specialty Males and the Specialty Males logo and Yield Plus Male and the Yield Plus Male logo are trademarks of Aviagen in the US and other countries. All other brands and trademarks are the trademarks of their respective owners.