Cobb at IPPE: Driving the Industry Forward
Learn more about Cobb-Vantress and how the genetics company is driving the poultry industry forward at the 2018 International Poultry Processors Expo (IPPE) opening in Atlanta on January 30.
Cobb-Vantress is known for producing quality broiler breeders selected to achieve high meat yield and great results in feed efficiency and time to processing. Technical service, sales and genetics teams will be on hand at booth #C1953 to help attendees take full advantage of these benefits in their own operations.
Quality Products for Diverse Needs
With a variety of products designed to meet specific customer profiles, Cobb-Vantress delivers quality protein that is healthy and affordable worldwide. The CobbMV™ Male provides superior breeder and broiler performance in a variety of environments. The Cobb500™ offers great feed conversion and a superior growth rate and thrives on low density, less costly nutrition. For customers producing value-added, deboned products, the Cobb700™ combines high yield and feed efficiency to optimize both grow out and processing performance. The CobbSasso™ is the natural choice for consumers interested in slower growing, colored chicken. The broiler's robust health and well-being are ideally suited to traditional, free range and organic farming as well as less intensive indoor production.
Our Tech Service Makes the Difference
Friendly technical service experts keep Cobb-Vantress customers informed with the latest technical information, industry best practices and tips for improved feed conversion, broiler/breeder management, and so much more.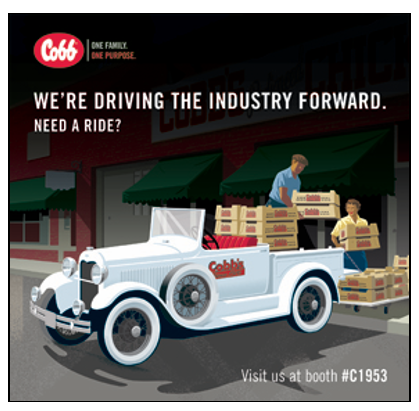 The 1929 Ford Model A
The restored replica of a 1929 Ford Model A chick truck will again be featured at the show. This glimpse at times gone by illustrates the long history of Cobb-Vantress, the world's oldest poultry breeding company dating back to 1916.
Cobb-Vantress, Inc. research and technology innovates the global poultry industry. With headquarters in Siloam Springs, Arkansas, Cobb distributes breeding stock to more than 120 countries and operates globally through four business units: North America, South America, Europe-Middle East-Africa (EMEA) and AsiaPacific. Learn more at cobb-vantress.com.