Cobb Celebrates Success as Asia Pacific Breed of Choice
A significant expansion in Asian Pacific sales of the Cobb500 broiler breeder during the past three years has led Cobb to become the region's breed of choice for the first time. The Cobb Asia team recently gathered at Palawan in the Philippines to celebrate this accomplishment.
"The Asia-Pacific region is the world's largest chicken market. In 2014, we set an ambitious goal to become Asia's breed of choice by 2017," said Pelayo Casanovas, Cobb general manager of the region.
"In the last three years, through our team effort and the support of our customers, we have proudly achieved this goal. With the launch of the MV male, which is showing great results in feed efficiency, coupled with our team's focus on serving our customers, we believe we can now continue to grow our market share in the region."
Joel Sappenfield, president of Cobb, expressed his own appreciation. "I would like to thank our team members who worked tirelessly to achieve this accomplishment," he said. "Members of the Cobb Asia team treat each other, and our distributors, like family. I have the utmost confidence in this team to fulfil the growth strategy they've outlined. Our Asian team has never been stronger."
Roy Mutimer, Cobb vice president of the Asia-Pacific and Europe-Middle East-Africa regions, spoke of the plans to augment the supply of breeding stock to Asia.
"With our New Zealand project progressing, we will be able to better protect security of supply to the whole region. This complex now under construction is expected to produce over one million grandparent packages each year, which, with support from US and Europe, we are confident will position us to deliver Cobb products to our customers whenever they need them."
In 2018 Cobb will launch an advertising campaign focused on thanking customers for making the Cobb500 the breed of choice in the Asia-Pacific region.
The ongoing growth in poultry production in Asia has made it the world's number one chicken producer. In China, this growth has been helped by the price advantage of chicken meat, now being only one-third of the price of beef. Throughout the region, poultry consumption is increasing by more than 3 percent a year, helped by greater availability to a wider range of the population.
This rising demand is being met in large part by expansion of integrated operations displacing backyard production.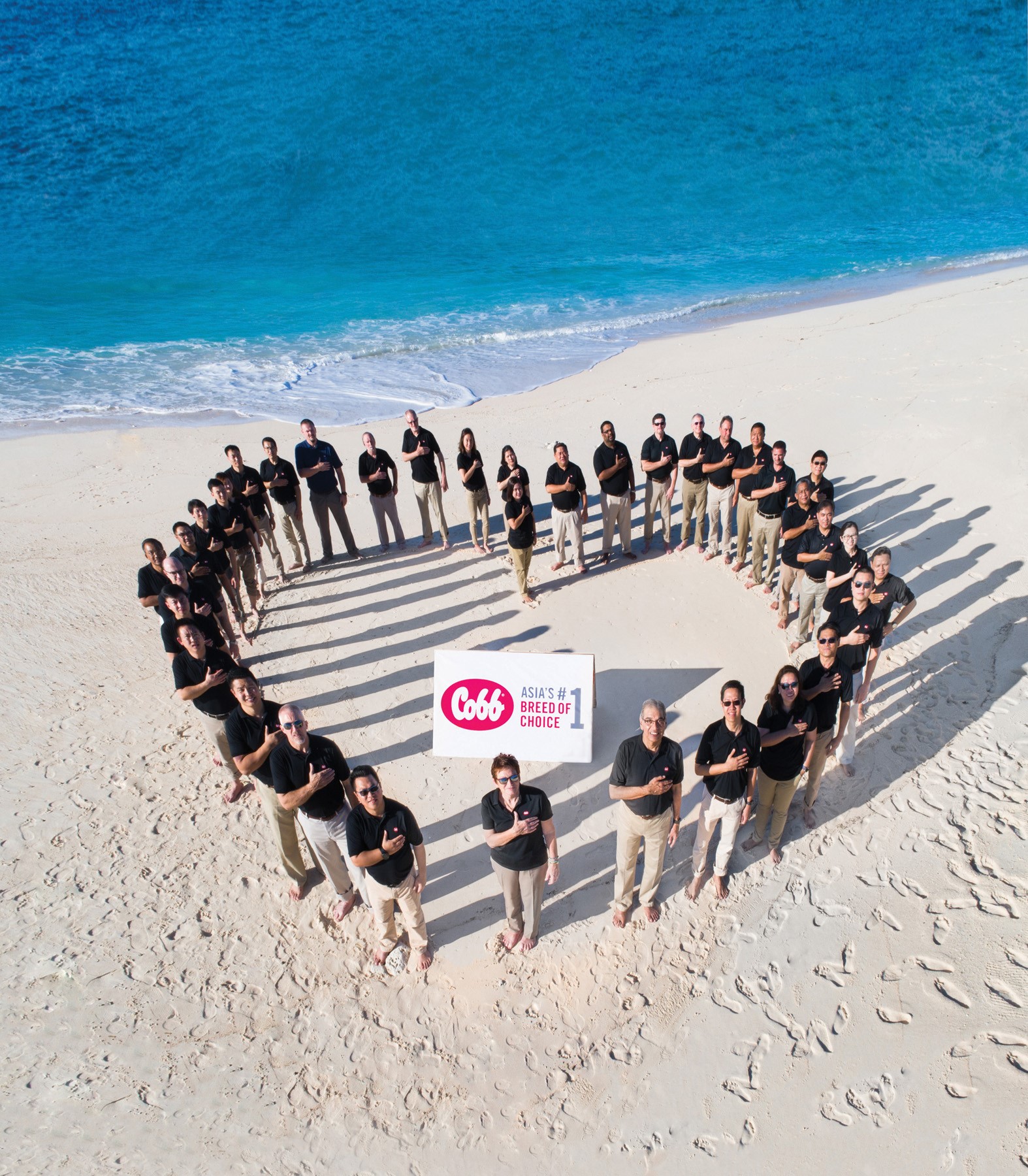 The Cobb team celebrating on the beach at Palawan.
As reported by Cobb-Vantress.