Invigorating Arbor Acres GP distributor and PS customer meeting in Malaysia
An Aviagen® Arbor Acres® Customer Service Team (AACST) meeting catering to grandparent (GP) and parent stock (PS) customers from the Middle East and Africa was held on November 12-17. The meeting contained over 20 presentations and 2 workshops, effectively covering topics critical to business success in the current industry.
The meeting strategy emphasised the theme "hand-in-hand" to highlight the strength of combining Aviagen resources with the local expertise of GP distributors as well as the success of PS customers to drive the business forward.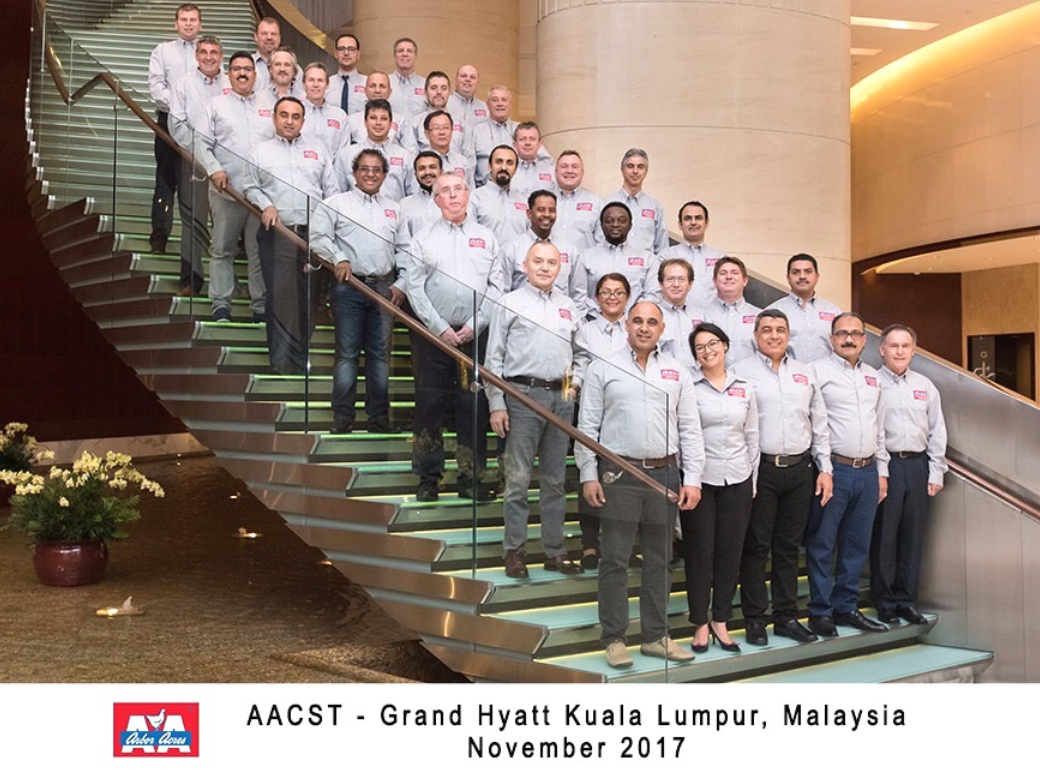 A dedicated day for GP distributors addressed a number of important topics and initiated discussion around the role of a distributor and the importance of a laboratory in a GP operation. Additionally, an analysis of survey responses focused on what "Arbor Acres Means to You" and a detailed outline covered what it takes to be a part of the Arbor Acres hub supply strategy.
The remaining four days for both distributors and customers were committed to knowledge transfer on ventilation, nutrition, biosecurity, alternative rearing systems, the R&D genetic program, broiler performance, the export process, maximising fertility and effective rearing and laying breeder management. Six major market reviews were delivered by customers during the program.
The agenda contained two market presentations covering "The MENA Poultry Outlook from a Global Perspective," which forecast a 45 percent increase in animal protein demand in the next 20 years in the region and the need for rapid modernization of the industry in order to supply that demand. The second, "Time for Africa" captured a poultry investment opportunity with significant rewards but also sufficient risk to ensure that a well-planned strategy is required to pursue future growth.
An interactive workshop called "Know Your Processed Bird" engaged customers in calculating the weight and yield of the parts produced from a specific broiler live weight. A second workshop offered an excellent financial analysis of the commercial value of the Arbor Acres annual genetic improvements and their significance to distributor and customer business.
Khalil Nasser, international commercial manager, Middle East, Africa commented, "We have received a lot of positive feedback from the Aviagen Arbor Acres customers and distributors throughout the meeting. The AACST meeting is a key commitment to the customers to update and transfer knowledge and analysis, build working relationships and help them to optimise their business performance."
"We look forward with anticipation to attending this meeting every year," commented Dr. Khaled Moustafa, general manager, Cairo Poultry Company. "It offers a dedicated period to focus on where we might improve performance, work closely with the Arbor Acres team and gain new insights and information that end up assisting the business."
About Aviagen
Since 1923, Aviagen® has established itself as the world's leading poultry breeding company, developing pedigree lines for the production of commercial broiler chickens under the Arbor Acres®, Indian River®, and Ross® brand names. The Rowan Range® and Specialty Males® are specialty breeding stock from Aviagen that offer greater flexibility for customers to meet specific or niche market requirements. The company is based in Huntsville, Alabama, USA with a number of wholly-owned operations across the United Kingdom, Europe, Turkey, Latin America, India, Australia, New Zealand, and the U.S., and joint ventures in Asia. Aviagen employs more than 3,900 people and has a distribution network serving customers in more than 100 countries.
For further information, please visit www.aviagen.com.