Aviagen awards Ian Panton scholarship at IPPE 2018
Aviagen® announced today that it has awarded the 2017 Ian Panton scholarship to Nükhet Samanlı from Aviagen Anadolu in Turkey.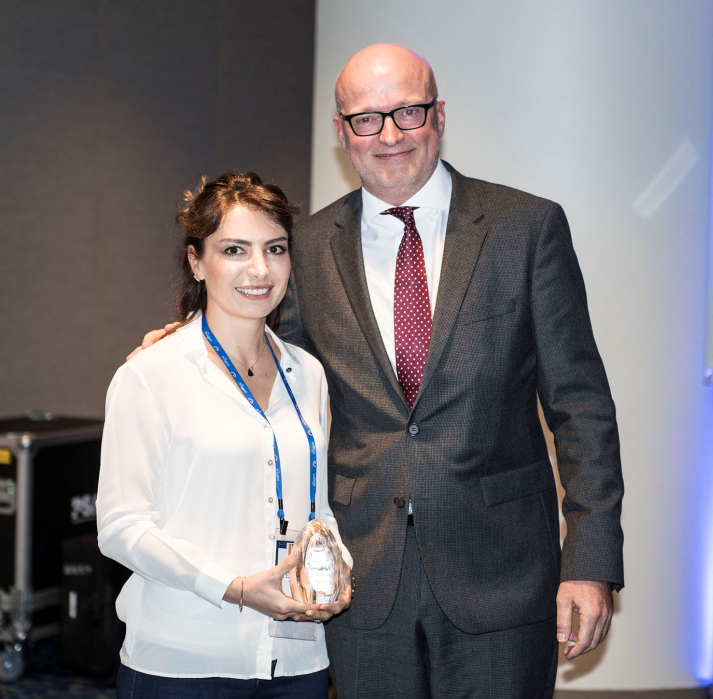 The scholarship was presented to Nükhet on Jan. 29 at the International Production and Processing Expo (IPPE) 2018 in Atlanta.
It will consist of financial support of up to $7,500 for one year to go toward enhancing Nükhet's career within the poultry industry. In addition to the funding, she will be mentored by an Aviagen senior manager.
Nükhet and her future goals
Nükhet earned an MBA from Baskent University in Ankara, Turkey, in 2008, and a Bachelor's in Economics from Bilkent University in Ankara. After working for various technology companies throughout Turkey, she has been a planner for Aviagen Anadolu since 2014. She aims to apply the scholarship funds toward a Ph.D. in Marketing.
"I am honored to receive the Ian Panton scholarship, which will help me fulfil my aspirations to complete my Ph.D. in Marketing. Through this course of in-depth study, I will enhance my knowledge of markets and cultures in Turkey and the Middle East to develop targeted marketing strategies. My ultimate goal is to better serve the company, our customers in Anadolu and the poultry industry as a whole," explains Nükhet.
Developing future talent
Since the beginning of the Ian Panton program, five employees from throughout Aviagen's global regions have been awarded an academic scholarship.
"Aviagen remains fully committed to developing our talent, which we consider our most valuable resources," says Aviagen CEO Jan Henriksen. "We're proud of Nükhet's accomplishments and the contributions she has made at Anadolu during the past four years. She has great ambitions, and through the scholarship, we hope to help her achieve her academic and professional goals."
Honoring an Aviagen and industry great
When Aviagen established the Ian Panton scholarship fund in 2011, its mission was twofold: to support the development of future industry leaders, and to honor Ian Panton, an Aviagen and industry legend.
Panton dedicated four decades of service to Aviagen, its people and its industry. Panton's history with Aviagen began in Scotland with Ross® Breeders in the early 1970s, and he grew to become CEO of the Aviagen Group worldwide in 2000. While he retired from Aviagen at the end of 2009, he continues to serve the industry by speaking at numerous Aviagen and industry-related events.
About Aviagen
Aviagen® is a global poultry breeding company, developing pedigree lines for the production of commercial broiler chickens under the Arbor Acres®, Indian River®, and Ross® brand names. The Rowan Range® and Specialty Males® are specialty breeding stock from Aviagen that offer greater flexibility for customers to meet specific or niche market requirements.
The company is based in Huntsville, Alabama, USA with a number of wholly-owned operations across the United Kingdom, Europe, Turkey, Latin America, India, Australia, New Zealand, and the U.S., and joint ventures in Asia. Aviagen employs more than 3,900 people and has a distribution network serving customers in more than 100 countries.
For further information, please visit www.aviagen.com.