Maple Leaf Farms celebrates 60 years in the poultry business
LEESBURG, IN, 1 February 2018 – Maple Leaf Farms, a fourth generation family owned poultry company, is celebrating its 60th anniversary in 2018 with a year-long look back at its history with employees and business partners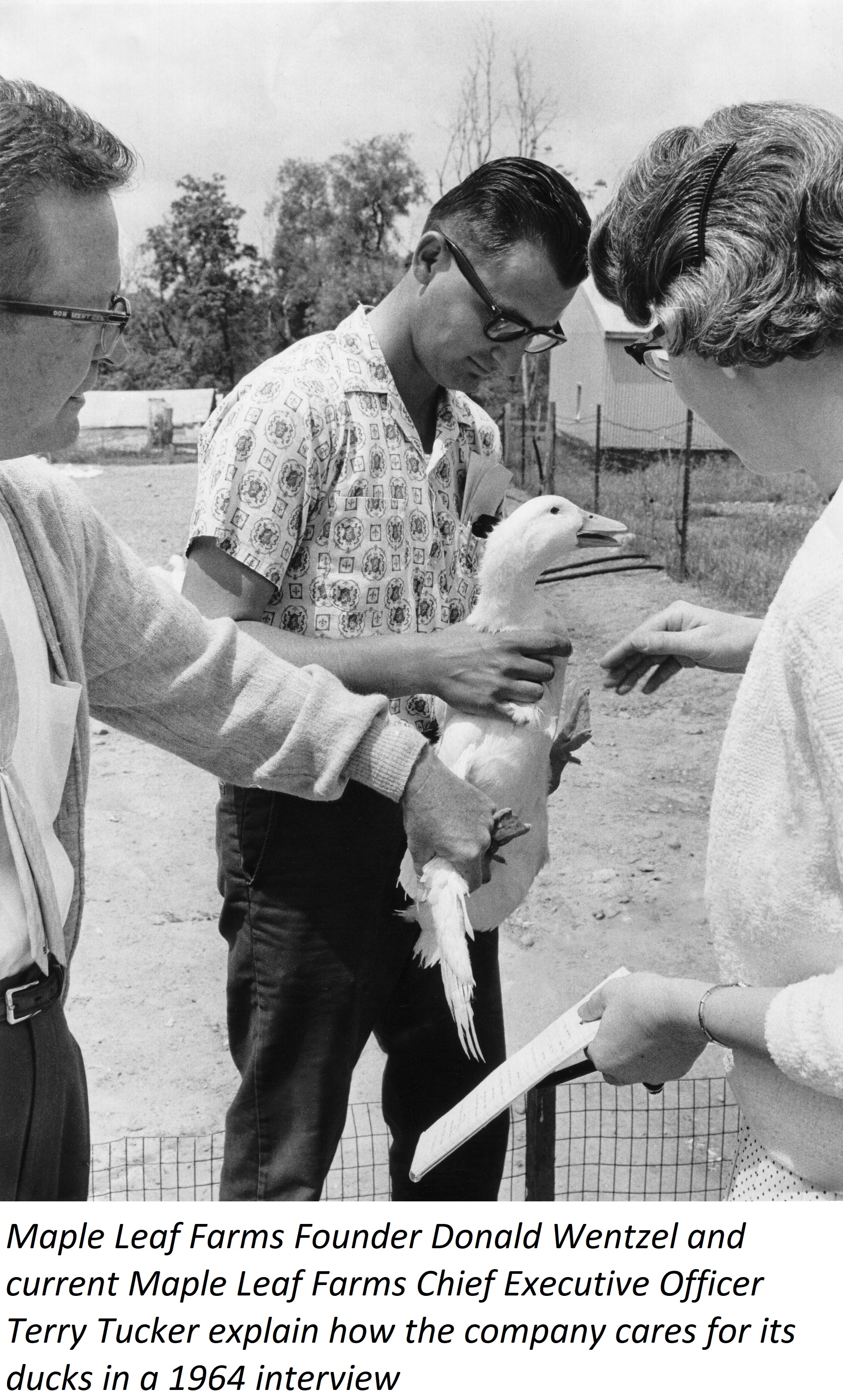 "We are very excited to be celebrating our 60th anniversary in 2018," said Maple Leaf Farms Chief Executive Officer Terry Tucker. "Our company was established with an entrepreneurial spirit and commitment to quality that is still thriving in our business today."
Maple Leaf Farms was founded near Milford, Indiana, by Donald Wentzel in 1958. As a northern Indiana native, Wentzel became interested in the US duck industry during his career in the poultry feed business and wanted to bring the industry to the Midwest where feed and distribution costs could be more easily managed.
"The duck industry has changed dramatically since I began working on my father-in-law's duck farm while in high school," said Tucker. "At the time, he and some friends were raising ducks on their farms and then processing them at a third-party plant. When the plant closed, he decided to purchase a small poultry operation located just south of Milford and started Maple Leaf Farms. In subsequent years, our company has made several strategic moves to grow our small operation into a world-class organization."
Throughout his time with the company, which began full time upon his graduation from Purdue University in 1963, Tucker has worked to establish Maple Leaf Farms as an industry leader. After Wentzel passed away unexpectedly in 1968, he was named executive vice president and focused on fostering the quality reputation already established by the company in its first decade of business.
In 1974, Tucker was promoted to president and chief executive officer and began implementing his vision of creating a vertically integrated duck company through the acquisition or construction of key facilities including hatcheries, feed mills and feather processing facilities. Notably, he oversaw the construction of a new food manufacturing plant in the late 1970s that was designed to produce fully cooked duck products and family-friendly chicken products like strips, nuggets and stuffed entrees.
"We realize that our success and growth over the years is due in large part to the outstanding work of our employees and producers," said Chief Operating Officer Scott Reinholt. "We are very appreciative of the support we have received from these team members as well as our vendors, customers and neighboring communities."
In the early 2000s, Tucker's sons, Scott and John Tucker were named co-presidents, ushering in the third generation of family leadership for the company. Under their direction, the company has grown domestic business and worked to capitalize on its position as a world-leading duck producer. In addition to establishing a global headquarters in Leesburg, Indiana, the company has also formed entities in other regions of the world in recent years to market its integrated duck production system globally.
"The reputation our company has built through our 60-year focus on quality has allowed us to enter markets seeking our high-quality duck and duck care know-how," said Co-President John Tucker. "The advancements we have made in how we care for and market our ducks allow us to serve regions of the world where duck is a major protein."
Today, as Maple Leaf Farms celebrates its 60th anniversary, it is the leading producer of quality duck products in North America, producing more than 10 million ducks each year with the help of 1,000 employees and 150 partner farms. Its duck and chicken products are sold to markets in all 50 U.S. states and 40 export regions.
"I am very proud of our fourth generation family business," said Scott Tucker, Co-President of Maple Leaf Farms. "My grandfather founded this business with the vision of producing the finest quality duck in the world, and our team works tirelessly each day to fulfill this mission."
As reported by Maple Leaf Farms