Arbor Acres Algeria: Seminar and celebration
Arbor Acres Algeria seminar celebrates the brand's 85th birthday and its ongoing success in Algeria.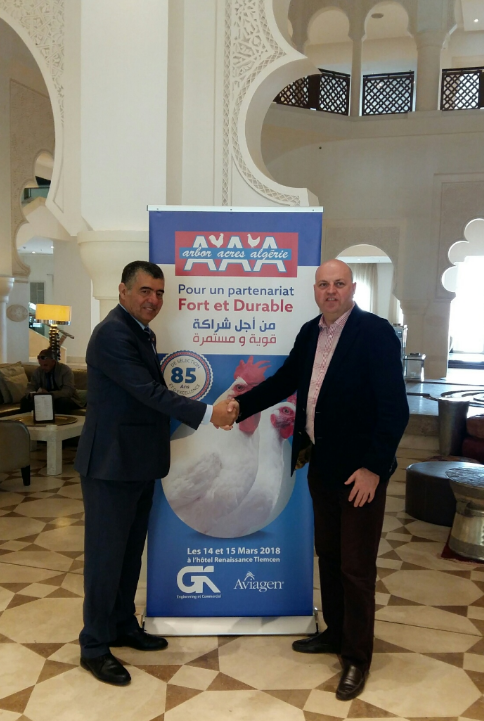 Arbor Acres® Algeria (AAA), the exclusive distributor for the Arbor Acres brand across Algeria, hosted the third joint seminar with the Aviagen® Arbor Acres team in Tlemcen on March 14 and 15. An audience of over 200 customers and industry professionals celebrated the Arbor Acres brand's 85th year in the poultry industry and its continued record of outstanding success and performance throughout Algeria.
The seminar comprised presentations requested by the Algerian poultry industry. For example, Judith Reid, Aviagen veterinarian, discussed the benefits of the GB Enhanced Standard Compartment during times of an outbreak of Newcastle Disease (ND) or Avian Influenza (AI) in the UK. Compartmentalisation helps to ensure export of chicks and eggs from approved farms known as "Compartments," and thus provides security of supply for the Algerian poultry industry.
Zoltán Marton, also an Aviagen veterinarian, spoke about maintaining safe and profitable production by monitoring breeder flocks, as well as collecting and analysing up-to-date information about flock health and other factors. Michael Garden, Aviagen's Middle East and Africa (MEA) business manager, focused on Aviagen's continuous investment in the Arbor Acres brand: "Aviagen has a proven long-term track record in poultry breeding, and Arbor Acres has over 85 years of success as a brand," he said. "This gives us a strong foundation for Aviagen's continued support for the brand in Algeria and throughout the MEA region. Aviagen is committed to offering an Arbor Acres bird to suit all customer needs in the region, and we are dedicated to providing the poultry industry with security of supply, plus industry-leading research and development. We also have a company-wide commitment to health, welfare, biosecurity, global customer support and knowledge-sharing."
A wide range of further subject matter was covered during the seminar, with Adam Sacranie, Aviagen nutritionist, discussing phase-by-phase breeder nutrition, Tolga Erkus, Aviagen hatchery specialist, exploring the maximisation of fertility from nest to setter and Zied Azzez, technical service manager MEA, outlining the art of male management. Florian Blevin, Arbor Acres Senior Technical Manager MEA, also provided an update of Arbor Acres broiler performance objectives. The seminar was attended by honoured guest, Barry Lowen, the British Ambassador to Algeria. He presented a gift to Alain Silvin, who was congratulated on his long services to the Algerian poultry industry and his dedicated work in Algeria, developing the Arbor Acres brand and securing its continued success in the country.
About Aviagen
Aviagen® is a global poultry breeding company that develops pedigree lines for the production of commercial broiler chickens under the Arbor Acres®, Indian River®, and Ross® brand names. The Rowan Range® and Specialty Males® are specialty breeding stock from Aviagen that offer greater flexibility for customers to meet specific or niche market requirements. The company is based in Huntsville, Alabama, USA with a number of wholly-owned operations across the United Kingdom, Europe, Turkey, Latin America, India, Australia, New Zealand, South Africa and the U.S., and joint ventures in Asia. Aviagen employs more than 3,900 people and has a distribution network serving customers in more than 100 countries.
For further information, please visit www.aviagen.com.