Boehringer Ingelheim to invest €65 million in avian vaccines
Boehringer Ingelheim is set to invest almost €65 million in a high-tech building at its Lyon Portes-des-Alpes site in Saint-Priest, France (Rhône), to meet the growing demand worldwide for avian vaccines.
Boehringer Ingelheim has confirmed its commitment to the poultry business by announcing that it is about to invest €65 million into a high-tech building for the production of avian vaccines.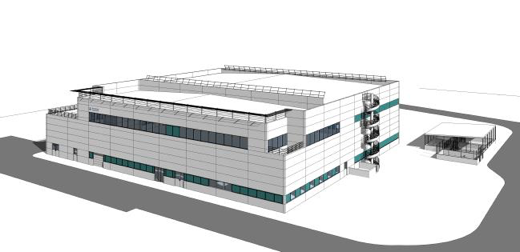 The German group has laid the first stone of a 5,700 sq m building at its Lyon Porte-des-Alpes (LPA) site. Known as F2IVE (Formulation and Filling of Inactivated Vaccines Extension), this major project will comprise a three-storey building - including 1,000 sq m of clean room space – mainly for formulating and distributing avian vaccines.
"As poultry consumption continues to rise around the world, there is an increasing demand for avian vaccines. This meant that our LPA production site in Saint-Priest was going to reach a saturation point by 2020. We had to do some forward planning and find additional production capacity", explains Erick Lelouche, President of Boehringer Ingelheim Animal Health France.
The new building, which has an environmentally friendly design, will house two formulation lines, a multi-format bottle distribution line and a bag distribution area.
Earthworks for the new high-tech building began in March 2018 with the first batches expected in spring 2020 for a range of avian vaccines destined for the world market, with the exception of the US.
Fifteen months after the acquisition of Merial (a Sanofi company) in January 2017, this new investment will lead to the creation of 42 new jobs, primarily consisting of qualified operations staff (flow and maintenance managers, production technicians).
"This investment reaffirms our commitment to the poultry industry worldwide. We believe the poultry sector has a great potential and future, and we are prepared to invest so that our business can grow with it, ultimately becoming the world leader in poultry vaccines", shares Jerome Baudon, Head of Strategic Business Unit Avian, Animal Health.
This new investment will eventually result in a threefold increase in the site's inactivated vaccine production capacity.