ONE: The Alltech Ideas Conference will explore the transformative power of ideas and their ability to change the poultry industry
LEXINGTON, Kentucky - Poultry producers and industry experts from around the world will gather at ONE: The Alltech Ideas Conference (ONE18), held 20-22 May in Lexington, Kentucky, to share ideas and discuss advancements in the industry related to digital technologies, superior eggs, meat quality and the use of antibiotics

Flocking to Digital: 8 Disruptive Digital Technologies
Is artificial intelligence the apex of digital technology? Do you know what specialised robots can do for feed efficiencies, mortality rates and potential disease concerns? How can these and other emerging technologies help poultry producers respond to industry demands and meet the needs of an increasing global population?
Hatching a Plan for Superior Eggs
The consumer is becoming more critical of egg quality as they consider eggshell strength, uniformity and color. What can you do to ensure superior external and internal egg quality? Plan for success by learning what to feed layers to promote premium shell quality and increase the egg's nutritional value.
There's plenty of competition at the meat counter. As consumers make selections based on visual appearance, palatability and consistency, does your product always win? Learn how to feed your birds for better meat quality and profitability.
Less is More: Going Organic to Improve Profitability
Why do nutritionists continue to overfeed nutrients and waste money? Discover new ways to reduce feed costs, improve digestion, spare vitamins and increase gut health by using organic minerals.
As the poultry industry continues to reduce or eliminate the use of antibiotics and adhere to increased regulatory control on pharmaceuticals, what can producers do to ensure their final product is free of harmful bacteria and remains competitive in the meat case? Learn how strategies implemented during the live production phase can reduce poultry diseases such as coccidiosis and reduce pathogen load.
Clearing up Confusion: Therapeutic Antibiotics
Antibiotics have been used for decades, but as consumers demand the removal of antibiotics from their food, the poultry industry must find a way to respond. What changes can be made to increase efficiency of therapeutic antibiotics? What are the myths and truths surrounding gut health? Are probiotics and prebiotics the answer?
*Topics subject to change as the schedule evolves.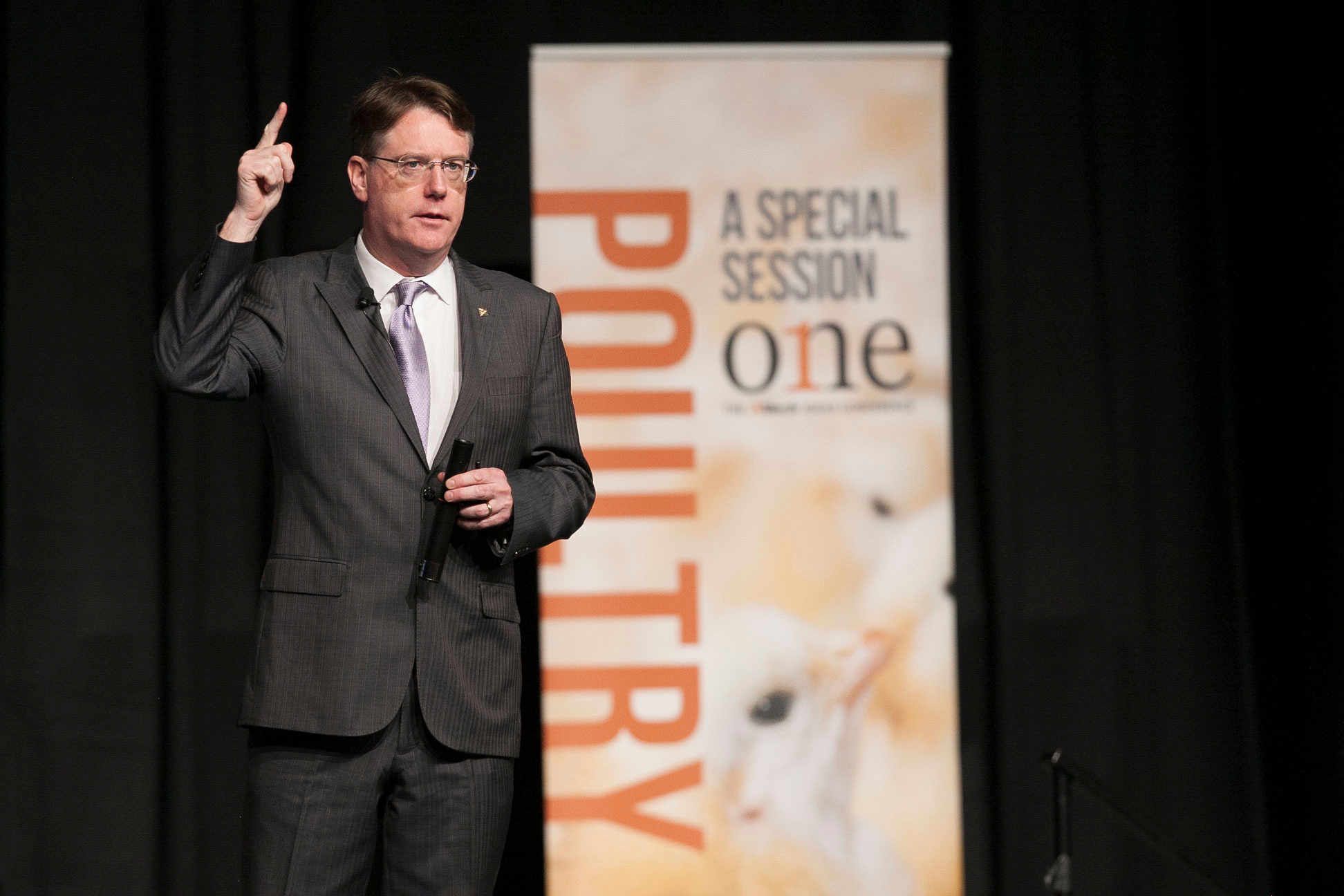 Aidan Connolly, chief innovation officer, Alltech
Now in its 34th year, Alltech's conference is attended annually by nearly 4,000 people from over 70 countries. Whether producers are navigating a fundamental change within the poultry industry or just need a little inspiration, they'll learn about real-world opportunities and solutions at ONE18.
Learn more and register
here
. Join the conversation with #ONE18 on Twitter, and follow the
ONE18 Facebook event page
for updates.
As reported by Alltech