The Queen's Award for Enterprise: Sustainable Development goes to The Lakes Free Range Egg Company
The Lakes Free Range Egg Company has been recognised by The Queen's Award for Enterprise - one of the most prestigious business awards programmes in the world. 'The Lakes' achieved their award in the Sustainable Development category
The Queen's Awards for Enterprise are traditionally announced on Her Majesty The Queen's official birthday on 21 April. They honour outstanding achievements made by UK businesses across four categories. The Lakes CEO David Brass was notified in advance that it was their "outstanding sector leadership and influence," that led to them receiving a Queen's Award for Sustainable Development.
David Brass described the win as "a hugely rewarding accolade for the whole team, it is a much-coveted award and we are very proud to receive the honour."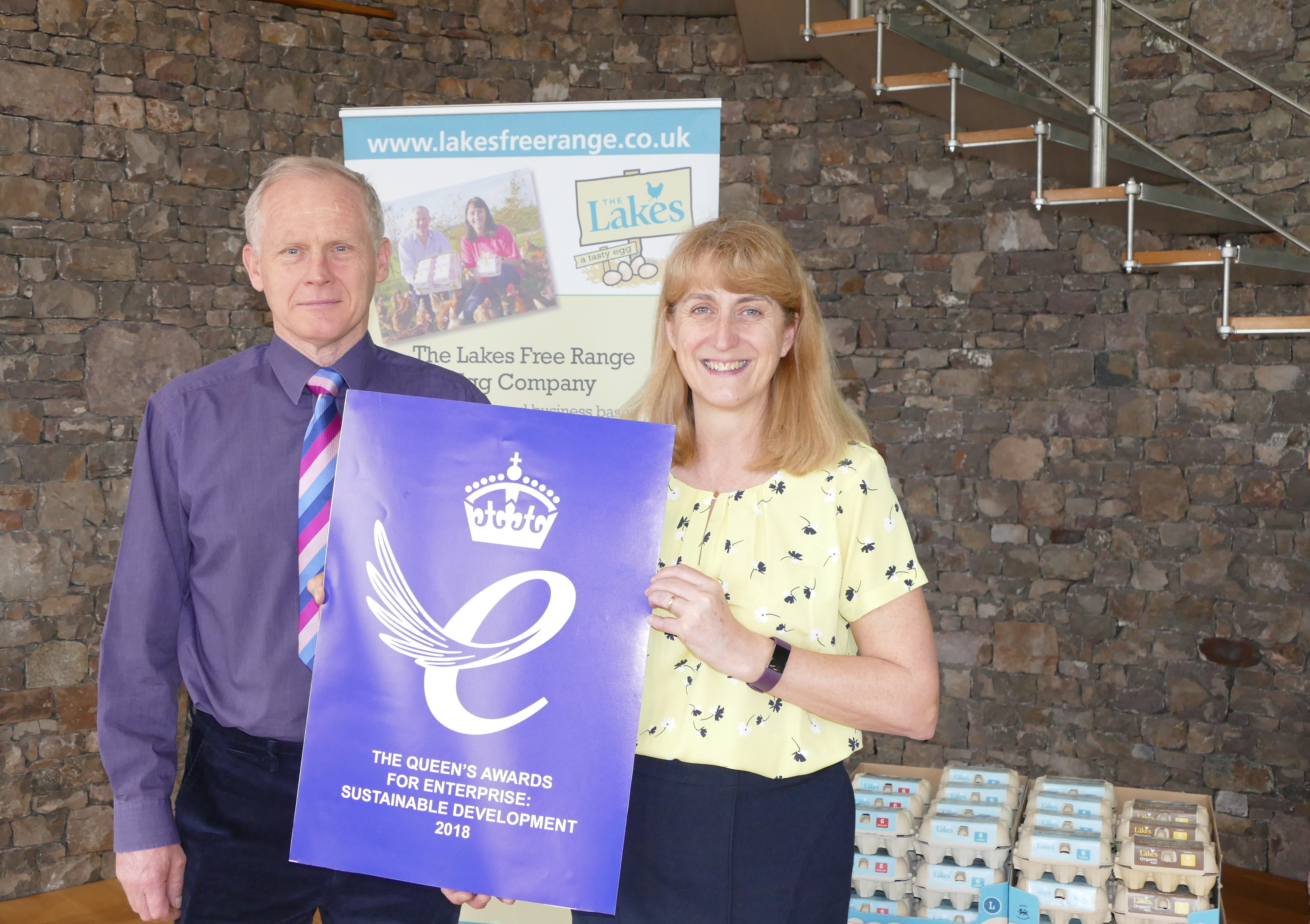 The Lakes was set up 21 years ago by David and Helen Brass who have continued to produce free range and organic eggs, packed to the highest standards and adhering to leading animal welfare, ethical and environmental principles. They are now the UK's largest, specialist free range egg producer/packer, achieving this with a network of small family farm producers and by developing a model of farming that is profitable, sustainable and replicable.
From inception they have always believed planting trees improves the welfare of free range hens. When they began, no industry standards existed, so they led the way. Over 157,000 native trees and shrubs have been planted on their ranges, optimising habitats for wildlife and biodiversity. All their producers follow the same model.
Always innovating, their packing station achieved carbon neutrality in 2016 – an industry first. David Brass is continuously involved in research to improve animal welfare and sustainable production methods and is also a Woodland Trust Ambassador. Benchmarking in the industry, The Lakes shares best practice with internationally recognised organisations as well as their producers.
Reflecting on news of their win, David and Helen Brass concluded "We have numerous awards for sustainability but see the Queens Awards for Enterprise as the very pinnacle of recognition and we are delighted to be the first in the egg industry to receive one. When we looked back at previous winners we saw just how exceptional this award is.
"This year, 237 Queen's Awards were presented to UK Businesses - but only 8 were awarded for Sustainable Development, so we are in very esteemed company.
"This success is very much a team effort. We feel the award recognises the hard work, dedication and commitment of all our staff who have helped develop our business in such a sustainable way - we are immensely proud of them all.
"It has been hard work keeping the news secret, but we can now shout from the rooftops and share the celebrations with our staff, suppliers and customers. It's a fantastic start to our 21st birthday year and a great boost that will make our coming of age celebrations even more special."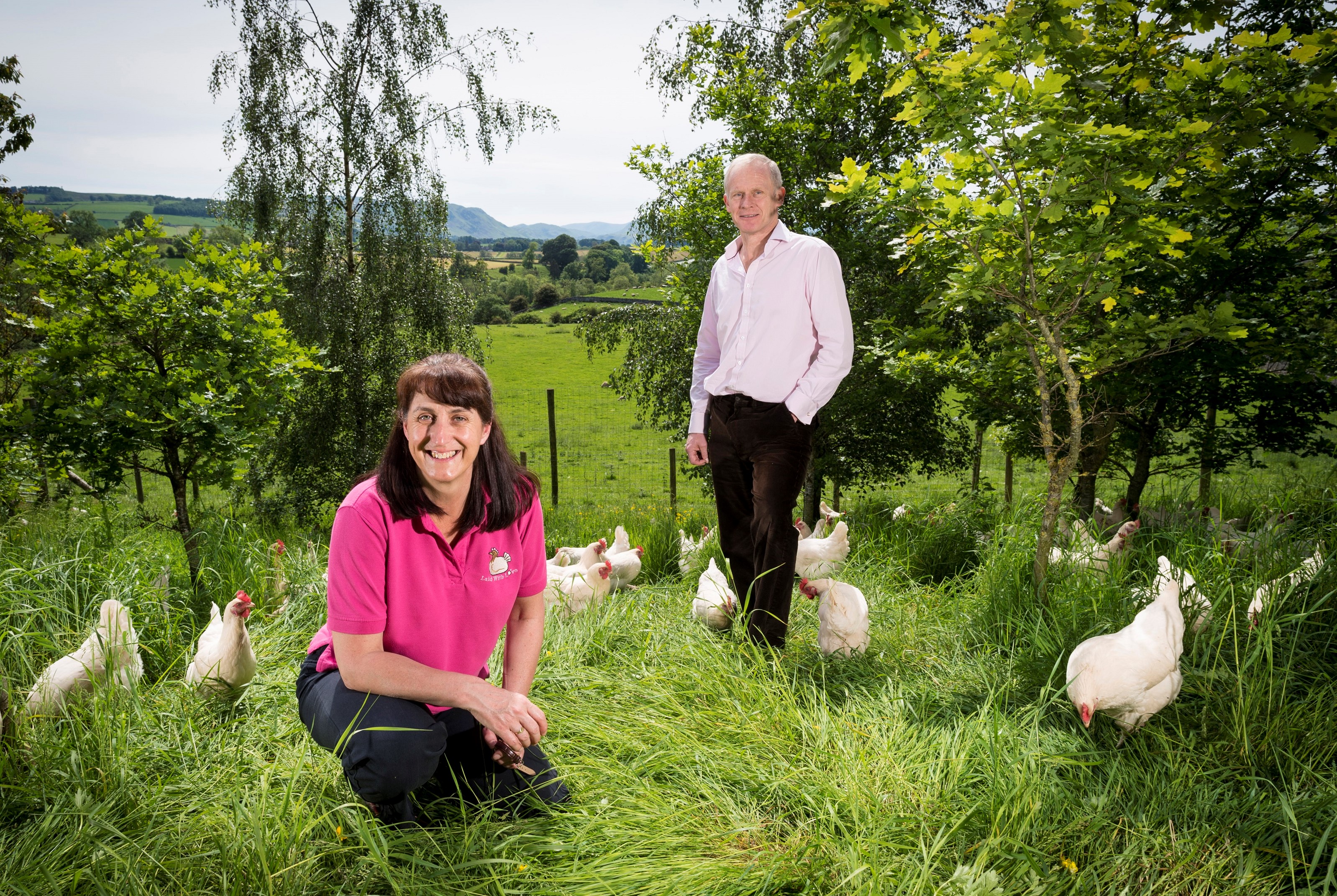 The Lakes team is now preparing to receive a visit from Cumbria's Lord Lieutenant Claire Hensman, Her Majesty The Queen's designated representative. Later in the summer, David and Helen Brass will attend a formal reception at Buckingham Palace and plans are underway for celebrations with staff, suppliers and customers.
To find out more about The Lakes Free Range Egg Company, click here.