Aviagen welcomes customers from far and wide to hatchery module of Europe, Middle East & Africa Production Management School
Combining lectures with practical learning, the 2018 school debuted its first incubator-building activity
Aviagen® hosted its 2018 Hatchery and Incubation Management Module of the Production Management School for Europe Middle East and Africa (EMEA) during April 20-27 in Budapest, Hungary. Combining theory with hands-on learning, the module's curriculum was designed to provide attendees with the knowledge and insight needed to achieve optimum hatchery performance.
While this is Aviagen's sixth Hatchery and Incubation Module, 2018 marked the school's third consecutive year in Hungary, a country with a strong poultry industry.
Hot topics for hatchery success
Aviagen Incubation Specialist Eddy van Lierde kicked off the school with an introduction followed by an interactive incubator-building exercise, which was a major highlight for students. During the exercise, students built a makeshift incubator, in which they placed fertile eggs to care for and monitor for the duration of the course.
Led by Eddy van Lierde, students build hand-made incubator
Other important agenda items for the module included:
Fertility and hatching egg care
Science of incubation
Ventilation, calibration hatchers
Incubation, chick quality and growth
Biosecurity and problem solving
The sessions were presented by highly qualified experts in their field specializing in incubation, hatcheries, customer service and flock husbandry from Aviagen, academia and the wider poultry industry.
Outside the sessions, students enjoyed the opportunities to learn from one another, exchanging ideas and experiences and fostering valuable professional relationships.
Dinah Nicholson, Aviagen's global manager of Hatchery Development and Support, commented on the success of this year's school. "We designed the Hatchery and Incubation Management Module to demonstrate to students what a developing embryo needs during incubation, equipping them with everything they have to be aware of to obtain the best hatchery performance possible. At Aviagen, our ongoing commitment is to share our latest knowledge with our customers and help prepare the future generation of poultry professionals for success, while giving them a forum to network and form lifelong friendships with industry colleagues from around the world."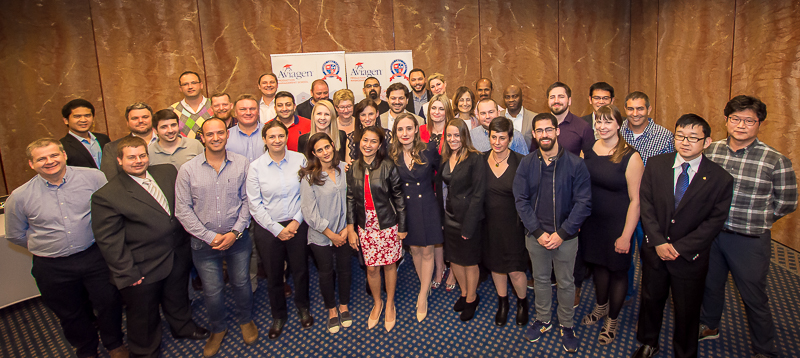 Students enjoy depth of information
This year's school saw 37 diverse and enthusiastic students from 18 countries throughout EMEA and the rest of the world. Here are some of their remarks:
"My personal highlight was the opportunity to be surrounded by excellent tutors who really enjoy teaching, not only at the lectures, but always available to answer any of my own hatchery-related questions both during this week and by email in the future. My main takeaway is the importance of regular monitoring, recording, and constant use of all data, from the day the eggs enter the hatchery and throughout the entire process in order to produce viable and thriving chicks on the farm. I wish I had had this opportunity 20 years ago," remarked an enthusiastic Donna Madnick, quality control manager for Yavne Hatchery in Israel.
Elvin Janssen, hatchery manager for RCL Foods Consumer (Pty) Ltd, South Africa, added, "All topics were extensively presented by competent and well-experienced tutors, who freely shared knowledge and highly regarded individual student opinions. I also enjoyed the relaxed atmosphere and camaraderie with other students. In all aspects, the School was an absolute pleasure and I feel privileged to have had this experience. The Aviagen team truly inspired us to take our operations to the next level of improved performance."
About Aviagen
Aviagen® is a global poultry breeding company that develops pedigree lines for the production of commercial broiler chickens under the Arbor Acres®, Indian River®, and Ross® brand names. The Rowan Range® and Specialty Males® are specialty breeding stock from Aviagen that offer greater flexibility for customers to meet specific or niche market requirements. The company is based in Huntsville, Alabama, USA with a number of wholly-owned operations across the United Kingdom, Europe, Turkey, Latin America, India, Australia, New Zealand, and the U.S., and joint ventures in Asia. Aviagen employs more than 3,900 people and has a distribution network serving customers in more than 100 countries.
For further information, please visit www.aviagen.com.