Two Middle Eastern countries, two-day conferences - two major successes
Aviagen events for Ross brand in Jordan and Lebanon deliver comprehensive support for customers.
Over the first five days of April, 2018, Aviagen® conducted two highly successful seminars for Ross® Parent Stock (PS) customers in the Middle East. The first was a two-day event in Amman, Jordan, 2-3 April, followed by a further two-day conference in Beirut, Lebanon, 4-5 April. Jordan and Lebanon are the only markets in the Middle East where Aviagen supplies its Ross brand Parent Stock directly to customers, rather than through distributors, so the two seminars supported customers directly by providing the latest product and market information via well-structured, concentrated and highly informative customer seminars.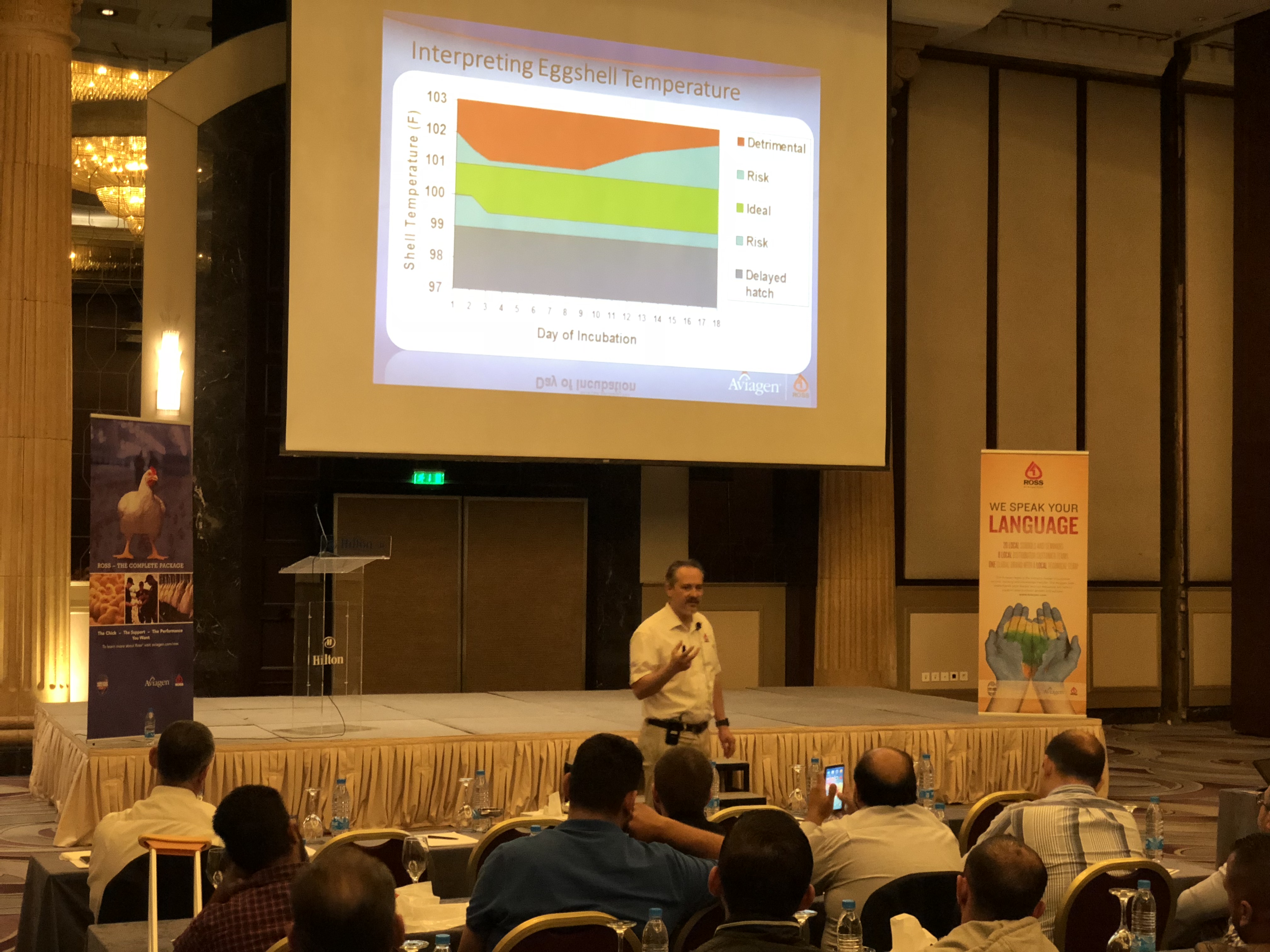 "Ross product success is going from strength to strength in both Jordan and Lebanon," says Dr Ibrahim Ibrahim, Ross technical service manager, Middle East & Africa (MEA), who spoke at both conferences. "That's why our MEA customer support team wants to constantly enhance service and support for producers in these two countries. These two seminars provided delegates with a whole range of relevant and timely information; they also offered an excellent opportunity for networking between Ross personnel and valued customers from both nations."
Invaluable knowledge exchange and networking opportunities
There were over 120 customers at the Jordan seminar (the first Aviagen event of its type to take place in the country), while a similar number attended the Beirut conference; this was the second of its kind in Lebanon, the last one taking place in 2016. "The Ross customer support team has built up excellent relationships with customers in both countries," says Dr. Ibrahim, "and the delegates who attended greatly enjoyed the opportunity to learn invaluable new information, and to spend time with those Ross personnel upon whom they have come to rely for so much managerial and product support." Both events followed a similar pattern, with the first day focusing on breeders, whilst the second day concentrated on broilers. Overall, an exceptionally wide range of poultry production subject matter was covered, including management, health, nutrition and incubation, with addresses by no less than six Aviagen experts.
"Ross breeders and broilers are market-leaders in both Jordan and Lebanon, thanks to their excellent and competitive performance," says Dr. Ibrahim. "Our customers in each country are keenly aware of the benefits of Ross products, and it was the purpose of these seminars to share information they needed to maximise the productivity potential of their Ross stock. The seminars have also given us the chance to build on relationships formed by previous Ross team field visits."
About Aviagen
Since 1923, Aviagen® has established itself as the world's leading poultry breeding company, developing pedigree lines for the production of commercial broiler chickens under the Arbor Acres®, Indian River®, and Ross® brand names. The Rowan Range® and Specialty Males® are specialty breeding stock from Aviagen that offer greater flexibility for customers to meet specific or niche market requirements. The company is based in Huntsville, Alabama, USA with a number of wholly-owned operations across the United Kingdom, Europe, Turkey, Latin America, India, Australia, New Zealand, South Africa and the U.S., and joint ventures in Asia. Aviagen employs more than 3,900 people and has a distribution network serving customers in more than 100 countries.
For further information, please visit www.aviagen.com.