Aviagen and Bounty Fresh team up for Broiler and Breeder seminars in the Philippines
Topics offer latest advice for maximising performance of Indian River birds
Aviagen® and Bounty Fresh Foods Inc. together hosted an educational seminar series for Bounty Fresh's Indian River® customers in the Philippines. The seminars were designed to help customers succeed by sharing advice and expertise for getting the most from Indian River broilers and breeders.
Bounty Fresh is a long-time customer of Aviagen's Indian River brand of broiler breeding stock, which is growing in popularity in the Philippines due to its high meat yield, feed efficiency and environmental tolerance. Held twice per year, the seminars aim to update Bounty Fresh and its customers on the most current knowledge needed to get the best performance from their Indian River breeders and broilers.
Enriching management topics during breeder and broiler seminars
On Monday, April 23, the companies welcomed 169 guests from the Luzon region to the Quest Hotel in Clark for the broiler / breeder seminar and on Thursday the same talks where repeated for 95 customers from the Vismin region at the Seda Centrio Hotel in Cagayan De Oro.
Presented by Bounty Fresh executives and Aviagen veterinarians, nutrition specialists and other poultry management experts, the following critical areas were among those addressed:
Optimal feeding for breeders
Future outlook for broiler and breeder improvements
Good nutrition for an antibiotic-free diet
Male management
Ventilation cooling pads and side inlets
Disease prevention
Amino acids and metabolisable energy for best performance in humid conditions
Outlook of the Philippine poultry industry (Vismin seminar only)
Topics reinforced through farm and feed mill visits
To balance the seminars with interactive, hands-on training, the two seminars were bridged by two days of farm visits on April 24 and 25. Breeder customers paid visits to Bounty Fresh breeder farms, while the broiler customers practised their skills at contract broiler farms. Parallel to the farm visits, Dr. Alex Corzo, Aviagen's Nutrition Specialist for North America, caught up with Bounty nutritionists at the Bounty feed mill to discuss and fine-tune diet and nutrition plans.
The farm and feed mill visits were wrapped up on Friday, with a discussion on ways to further improve and optimise operations.
Seminars met by enthusiasm from customers and hosts alike
The enthusiastic response from Aviagen and Bounty Fresh participants attests to the success of the seminars.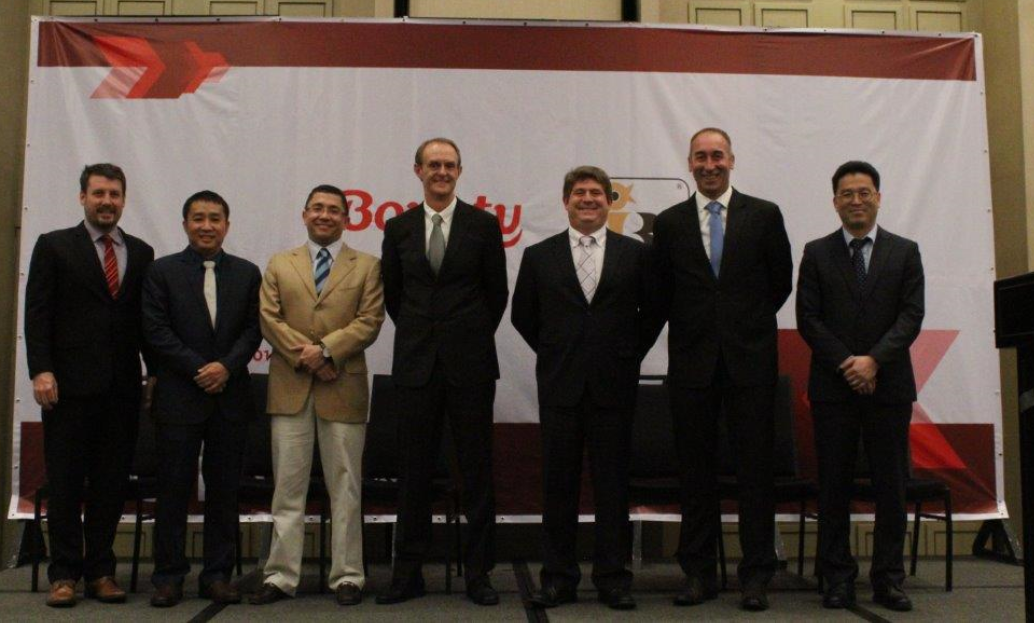 Aviagen's International Product Manager Dominic Elfick remarked on the engagement of the students, "At Aviagen, we're committed to our customers and helping them succeed by maximising the genetic potential of our birds, and I feel the Bounty seminars helped us demonstrate this commitment," he remarked. "It is reassuring for the future of the industry to see so many young people not just absorbing information on a wide variety of topics but also asking questions that make the presenters have to think too."
"Our visit to Bounty Fresh was a very interesting one, and as a nutritionist I was particularly impressed with the work that Richard, Gloria, and all other Bounty nutritionists and feed mill and quality control personnel are doing to ensure that all feeds are manufactured with good nutritional balance and an optimum feed form," commented Dr. Alex Corzo, Aviagen's Nutrition Specialist for North America.
"The seminar was well attended. The questions and the farm visits highlighted the opportunity to help Bounty improve its broiler performance," added Bernard Green, Aviagen's Ventilation Technical Service manager.
"Thanks to Aviagen and Bounty Fresh for this informative seminar. I found the presentations, topics, pacing and content to be very helpful." -- Mr. Ferdinand Sahagun, Danson Breeders, North Cotabato
"I gained a lot of insight about the Indian River breed during the seminar." -- Mr. Sherwin Lim, Senco Food Products, Cagayan de Oro City
About Aviagen
Aviagen® is a global poultry breeding company that develops pedigree lines for the production of commercial broiler chickens under the Arbor Acres®, Indian River®, and Ross® brand names. The Rowan Range® and Specialty Males® are specialty breeding stock from Aviagen that offer greater flexibility for customers to meet specific or niche market requirements. The company is based in Huntsville, Alabama, USA with a number of wholly-owned operations across the United Kingdom, Europe, Turkey, Latin America, India, Australia, New Zealand, and the U.S., and joint ventures in Asia. Aviagen employs more than 4,600 people and has a distribution network serving customers in more than 100 countries.
For further information, please visit www.aviagen.com.