Aviagen SweChick teams up with DanHatch Finland to engage with customers across Scandinavia
On May 22-23 in the city of Turku, Finland, representatives from Aviagen® SweChick customers in Scandinavia gathered together to exchange experiences and best practices.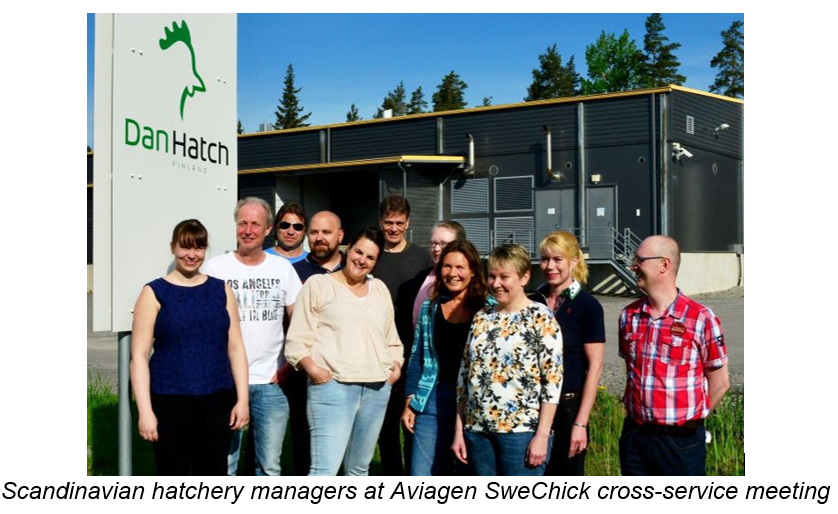 Organised by Aviagen SweChick with customer DanHatch Finland, the meeting took place at a recently upgraded DanHatch hatchery in Finland. During the event, participants discussed current challenges and the latest improvements in the field of hatchery production.
The meeting featured in-depth discussions on the latest news in hatchery management. Agronomist Hanna Bradley from Aviagen SweChick presented Ross® 308 performance results, as well as targets for quality and animal welfare.
Cross-service meetings strengthen customer ties
The meeting is part of an ongoing series of what Aviagen SweChick refers to as "cross-service meetings" that are organized regularly with its customers on current hot topics such as breeder, broiler and hatchery management. The cross-service meetings are set up for Aviagen SweChick and customers to learn from one another, stimulating sharing of knowledge, latest developments and best practices.
State-of-the-art hatchery, expert husbandry and Ross brand form winning combination
DanHatch Finland recently modernized and automated its Mynämäki hatchery. DanHatch's commitment to ongoing investment, combined with the hatchery's excellence in management, has led to peak performance for Ross 308 broiler breeding stock. DanHatch, along with SweChick customers across the Scandinavian region, has experienced considerable growth and success, as the popularity of Ross birds continues to rise.
Aviagen SweChick General Manager Thomas Carlson attributes the strong demand for the Ross 308 in the region to its quality and performance, particularly in the area of fertility and hatchability. "Aviagen SweChick values the opportunities for networking and an interchange of ideas and experiences provided by the cross-service meetings. I'm proud of the dedication shown by our Scandinavian customers, which, together with the efficiency and productivity of the Ross 308, has driven great results and success for Aviagen and our esteemed customers."
Relationship-building benefit of meeting
DanHatch Finland Production Manager Tero Heino guided the attendees in a tour of the new modernized hatchery. "I'm pleased with the progress of our operations here, and feel the key to our ongoing success is our close relationship with customers, always listening and applying their feedback toward ongoing quality improvement."
"One highlight of the event was the opportunity to meet colleagues from other Scandinavian hatcheries, discuss our current issues here in Finland and talk about our common experiences. Our team values these occasions to network with other hatchery professionals," concluded DanHatch Finland Managing Director Heli Kivimäki-Manner.
About Aviagen
Since 1923, Aviagen® has established itself as the world's leading poultry breeding company, developing pedigree lines for the production of commercial broiler chickens under the Arbor Acres®, Indian River®, and Ross® brand names. The Rowan Range® and Specialty Males® are specialty breeding stock from Aviagen that offer greater flexibility for customers to meet specific or niche market requirements. The company is based in Huntsville, Alabama, USA with a number of wholly-owned operations across the United Kingdom, Europe, Turkey, Latin America, India, Australia, New Zealand, South Africa and the U.S., and joint ventures in Asia. Aviagen employs more than 4,600 people and has a distribution network serving customers in more than 100 countries.
For further information, please visit www.aviagen.com.